A Storm Shadow cruise missile has been fired against an Islamic State target for the first time, destroying a bunker in Iraq.
It has been revealed that British Tornado aircraft have used Stormshadow missiles against a concrete bunker in western Iraq while Typhoons destroyed a smaller bunker and a Reaper drone struck targets in the north.
Storm Shadow is a British, French and Italian air-launched cruise missile, manufactured by MBDA. The missile has a range of approximately 560km, reaches speeds of Mach 0.8 and can be carried by the Tornado, Saab Gripen, Dassault Mirage 2000 and Dassault Rafale aircraft. Storm Shadow is being be integrated with the Eurofighter Typhoon as part of the jets Phase 2 Enhancement.
According to the Ministry of Defence:
"Intelligence had determined that Daesh were using a large concrete bunker in western Iraq as a weapons facility. Due to the massive construction, built during the Saddam era, it was decided to use four Stormshadow missiles against it, as the weapon has particularly good capabilities against such a challenging target. The missiles were launched on Sunday 26 June by two Tornados, all four Stormshadows scored direct hits and penetrated deep within the bunker. Also in western Iraq, south-east of Hit, a Typhoon flight used a single Paveway IV to destroy a much smaller bunker built by Daesh south-east of Hit. In northern Iraq, a Reaper provided close air support near Sharqat for the third successive day, using its Hellfires to attack a vehicle, a group of terrorists on foot, and a team planting improvised explosive devices."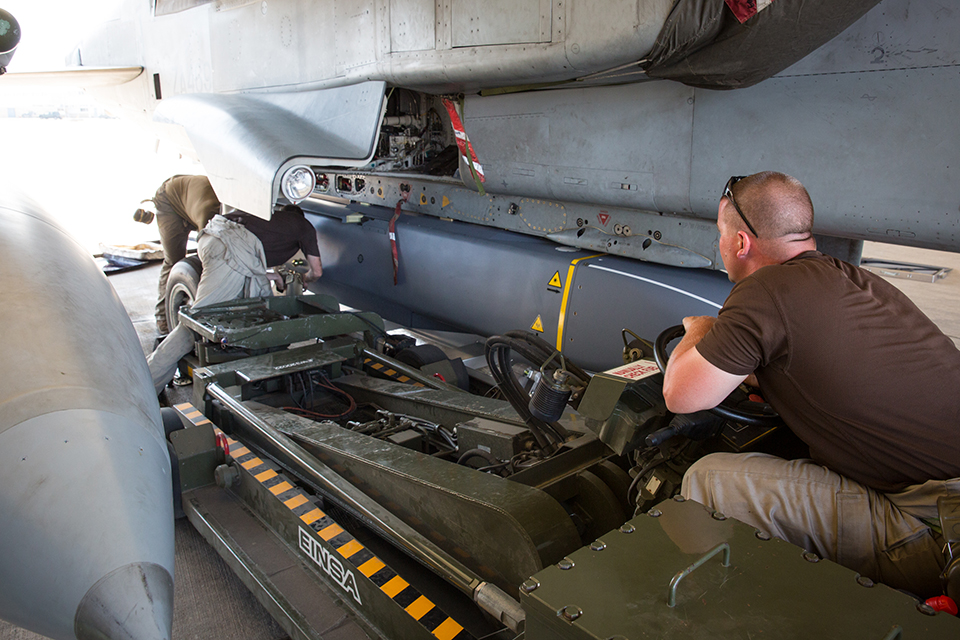 According to Philip Dunne, Minister of State (Defence Procurement), Typhoon is to receive Storm Shadow and Meteor in 2018. The information comes from a written response to a parliamentary question and is displayed below.
Asked by Mr Kevan Jones( MP for North Durham):
"To ask the Secretary of State for Defence, what recent progress has been made on integrating the Eurofighter Typhoon aircraft with (a) Storm Shadow missiles, (b) Meteor missiles, (c) the DASS radar system and (d) other avionics."
Answered by Philip Dunne:
"The UK is committed to a series of phased enhancement programmes for Typhoon to increase its overall capability. Under current plans, the in-service dates on Typhoon will be August 2018 for Storm Shadow, and June 2018 for Meteor. Integration trials on both weapons are continuing. The Defensive Aids Sub System (DASS) is an existing part of the UK Typhoon fleet and is subject to continued review and enhancement. Separate development of an Active Electronic Scanned Array radar for Typhoon also continues."