The UK, on occasion, scrambles jets to intercept unresponsive aircraft in Irish-controlled airspace but make no mistake, the UK is not protecting Irish airspace.
---
This article is a fact-checking article, if you believe we've made an error you can submit a correction in line with our correction policy.
---
First, let's take a look at the air policing side of things with regards to the Flight Information Region Ireland is responsible for.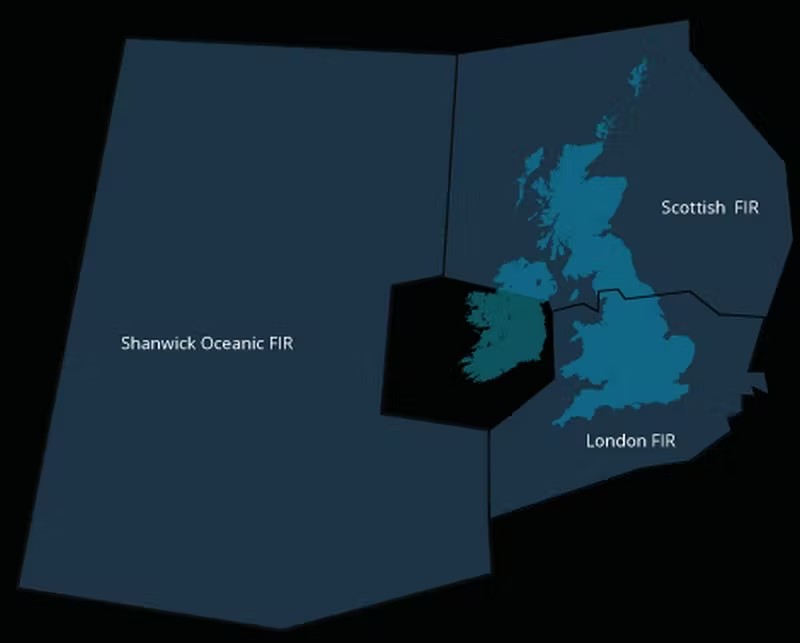 What's the situation?
Basically, the Royal Air Force launches Typhoon fighter jets to intercept unidentified aircraft in the Irish 'Flight Information Region' for air policing duties because Ireland is incapable of doing so itself.
Make no mistake, the UK is not selflessly defending Irish airspace as this agreement is mutually beneficial to both states. Due to the speed of modern aircraft, the UK needs to be able to intercept aircraft even as far southwest as Ireland. Additionally, the controversial agreement also reportedly allows British aircraft to transit sovereign Irish airspace (different from the Flight Information Region mentioned above) should that be required.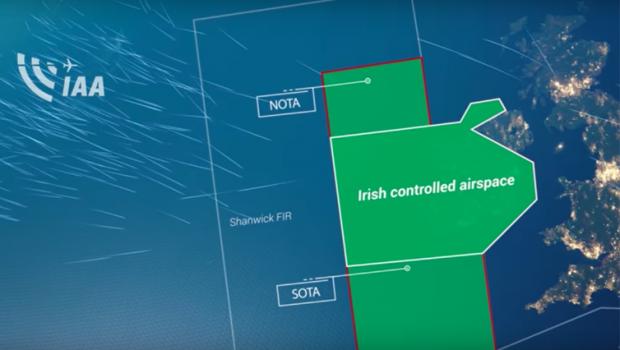 What's the difference? Sovereign airspace (shown below) extends 12 miles from the coastline and is part of Irish territory however Flight Information Regions (shown above) are designed to ensure the safety of civil aviation and have provision for air traffic control services provided by a nation nearby.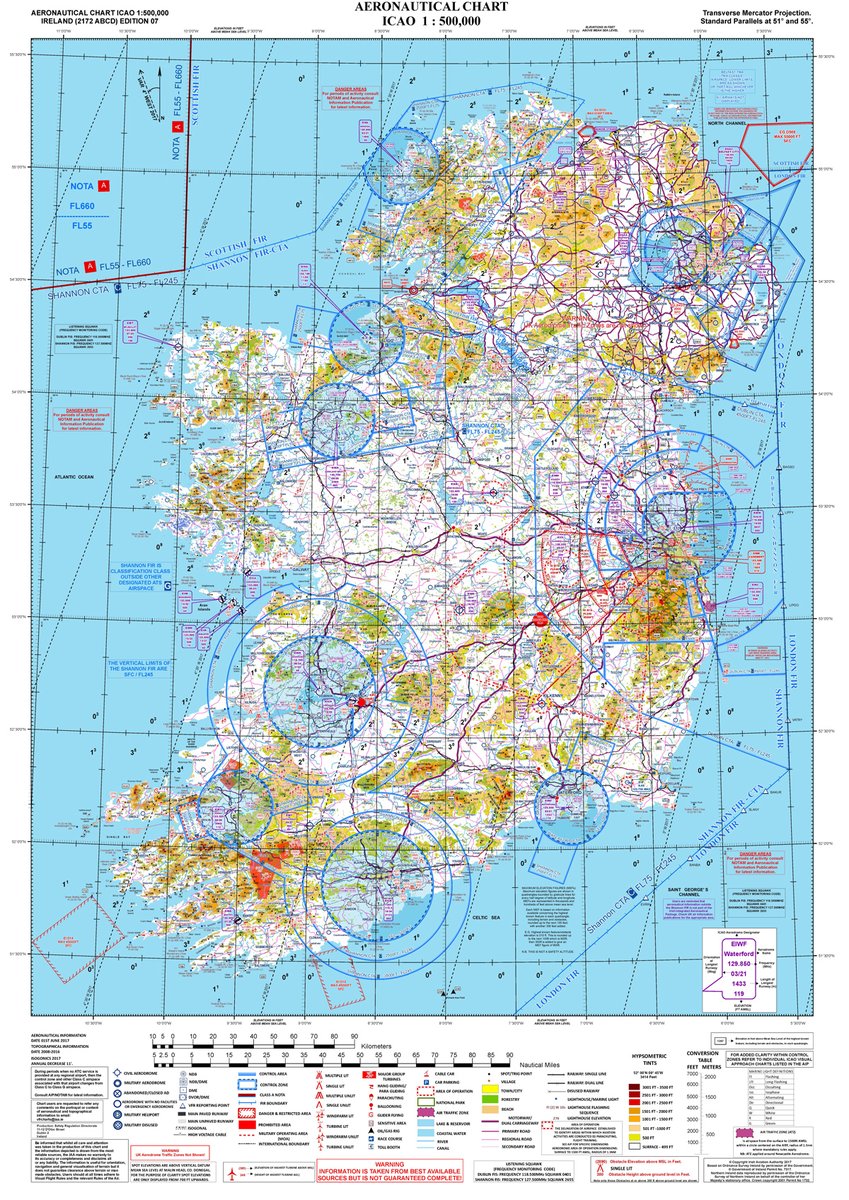 What's the issue? Russia isn't going to bomb Ireland, the issue is much simpler. Russian military aviation often flies through these Flight Information Regions without filing a flight plan or talking to air traffic control.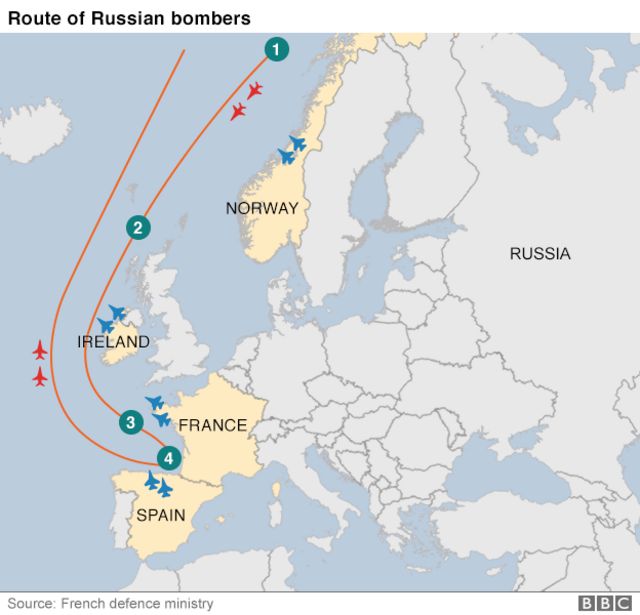 This turns them into stealth aircraft for a country with no 'primary radar' able to see them. This is dangerous due to the presence of airliners. When a fighter intercepts Russian aircraft it shows where the unresponsive aircraft is and allows for civilian traffic to be moved. The below image shows a normal day for air traffic in the region, it is incredibly busy.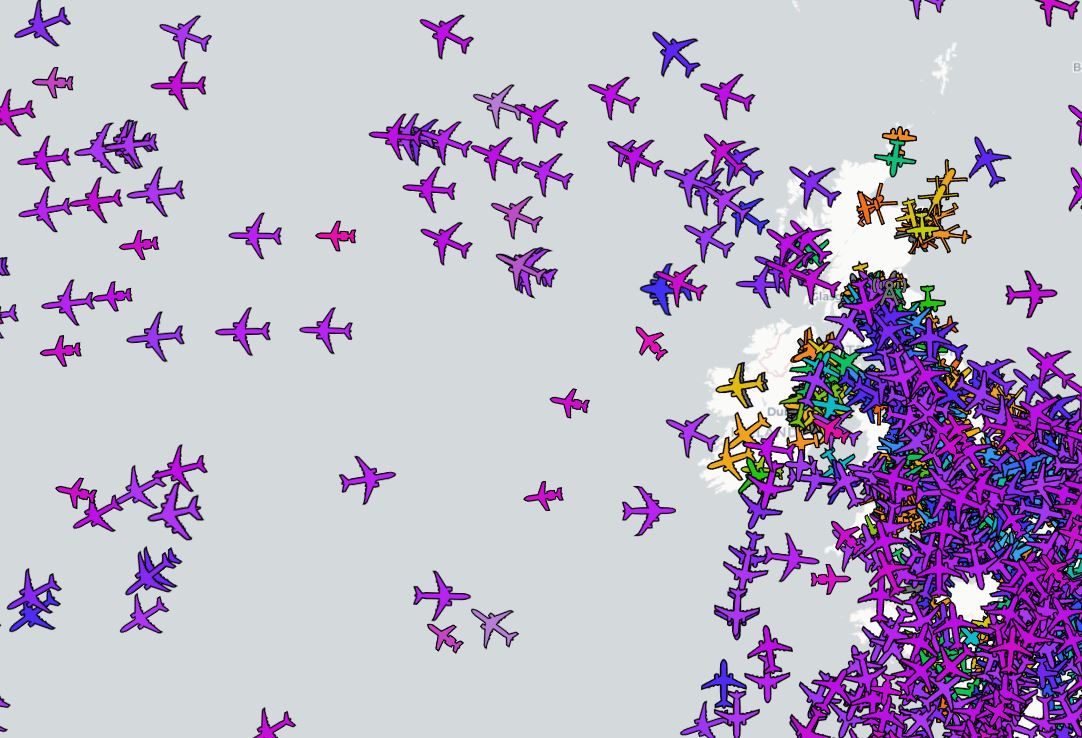 Ireland operates 'The Air Corps', the service provides military support to the Irish Army and Naval Service but lacks any jet combat aircraft capable of intercepting Russian aircraft, as such British jets undertake the role.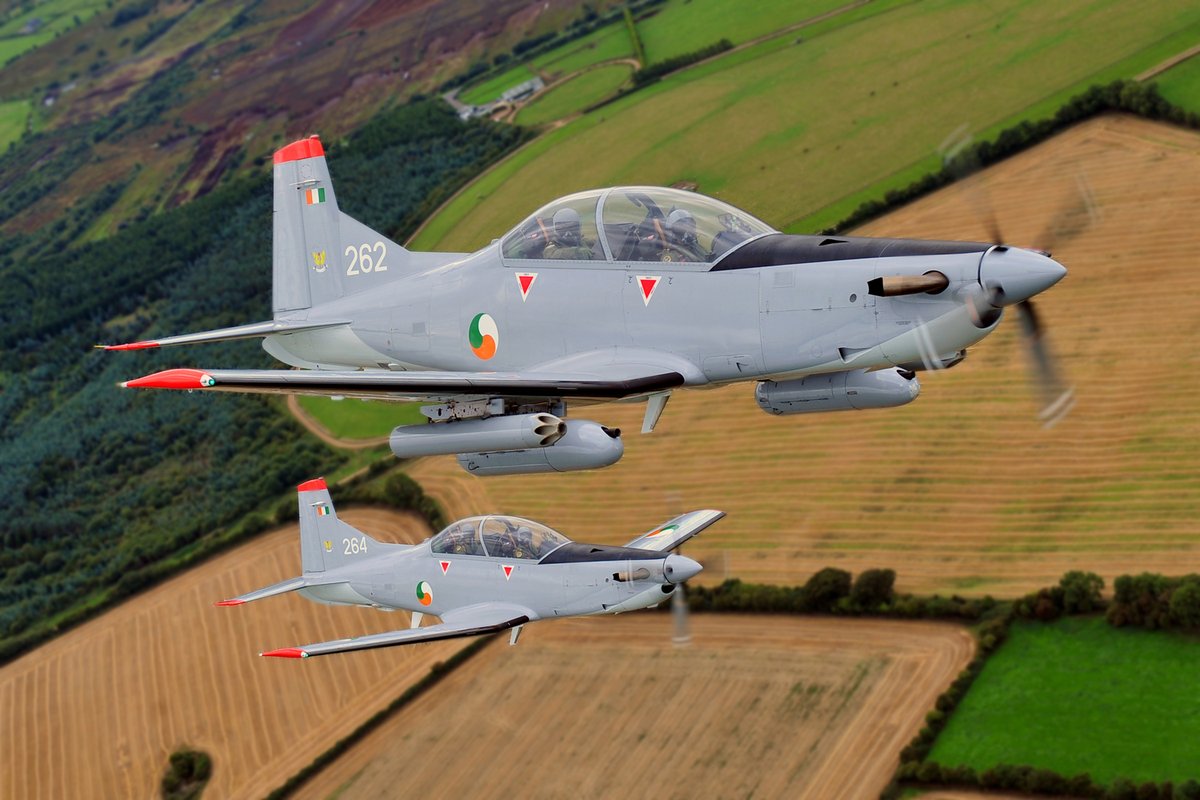 This leads to the mistaken belief that Britain is responsible for Irish air defence, it is not. People on both sides of the Irish Sea however are aware that Ireland benefits significantly from this arrangement as it helps ensure the safety of Irish-controlled airspace.
There are discussions ongoing in Ireland to examine options to remedy this, including the purchase of fighter jets as my terrible mockup illustrates, but what will happen remains to be seen.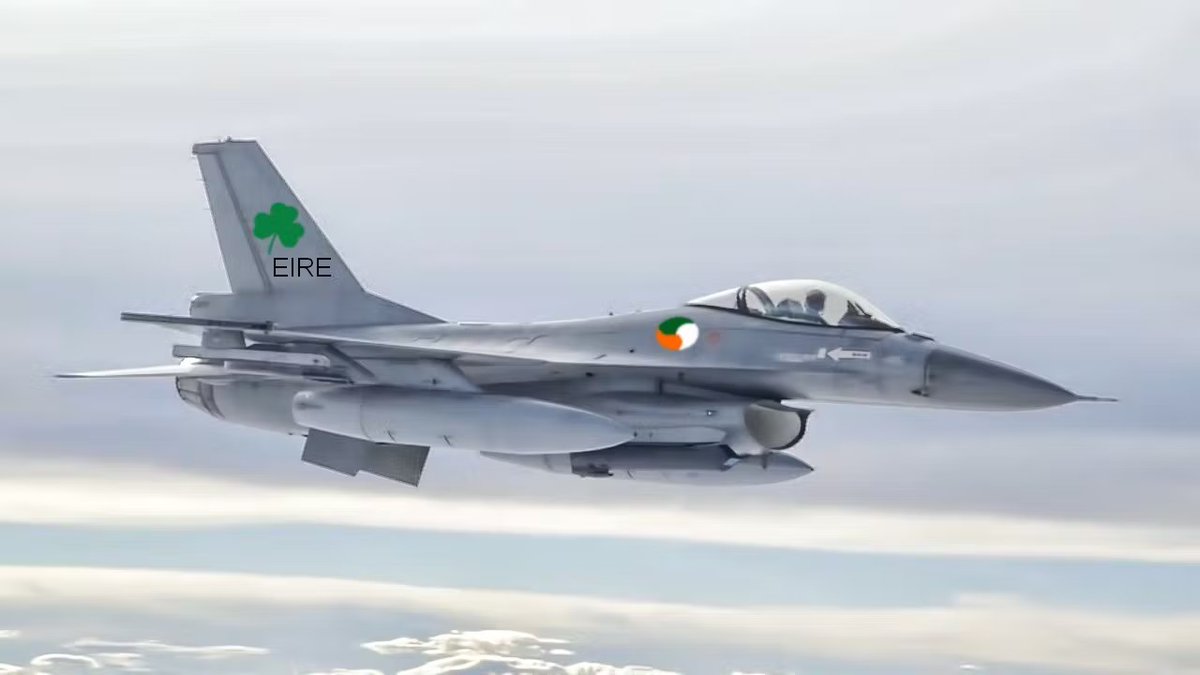 As I said abve, the UK isn't protecting Irish airspace, intercepting aircradt in the Flight Information Region as far away from the UK as possible benefits the UK but it's not lost on people on both sides of the Irish Sea that Ireland benefits.
Many are likely to ask why Russia would aim to provoke Ireland? According to Dr Edward Burke, the director of the Centre for Conflict, Security and Terrorism at the University of Nottingham:
"The principal reason is that, from a Russian perspective, Ireland is a significant piece on the geopolitical chessboard. Situated between two of Russia's principal adversaries, the United States and the UK, Ireland lacks the air defence capabilities to deter or defend against such provocative sorties into its airspace.
The Russian air force knows that it can approach or even enter Irish airspace with far less immediate and serious consequences than if it did the same to other north Atlantic countries such as Iceland where there is a Nato air policing mission – or Norway, which has a well-resourced air force capable of quickly intercepting suspected incursions."
Why is this done?
All airspace around the world is divided into Flight Information Regions (FIRs). Each FIR is managed by a controlling authority (in this case the UK) that has responsibility for ensuring that air traffic services are provided to the aircraft flying within it.
Why? Andy Netherwood explains the reasons why here, but in summary:
"The first is flight safety. Whilst sovereign airspace only extends 12 miles from the coastline, countries are responsible for ensuring the safety of civil aviation, including the provision of ATC services, within areas known as Flight Information Regions or FIRs. These extend well beyond the 12-mile limit. Russian long range aviation often transits the London and Scottish FIRs without filing a flight plan, talking to ATC or 'squawking' (operating their transponders). 
This makes them effectively invisible to civilian ATC and is very dangerous as airliners are also flying through this airspace.  By shadowing Russian aircraft, the intercepting aircraft can show ATC where they are, allowing controllers to move airliners safely out of the way.
The second reason is because of the speed at which aircraft travel.  An aircraft flying at 600 knots will travel 12 miles in little over a minute.  Waiting until an unknown or hostile aircraft has entered sovereign airspace before intercepting is too late.
It leaves insufficient time to safely carry out the intercept, visually identify the aircraft, provide all the required information back to decision-makers, and carry out any necessary action. Russian aircraft will normally be intercepted by the Norwegian Air Force and then handed over to RAF aircraft ensuring they are continually shadowed."
This isn't as straightforward as it seems however, an often mentioned but secretive agreement also exists that allows UK combat aircraft to fly over the Republic of Ireland.
Although the RAF have never requested access, nor are they ever likely to, Senator Gerard Craughwell told the Seanad that allowing Royal Air Force fighter jets access to Irish airspace on the request of Ireland interferes with Ireland's sovereignty.
"The Constitution is the most sacred document in the country. It drives everything we do and should control everything that takes place in this House. I refer to Article 15.6 on the right to raise and maintain military forces, which right rests exclusively with the Oireachtas. Imagine my shock at the weekend when I discovered that an agreement had been signed between this country and the United Kingdom granting permission to the United Kingdom to scramble fighter jets in Irish airspace.
The agreement was signed by the Department of Defence, the Department of Foreign Affairs and Trade and the Irish Aviation Authority, which is not even a body responsible to the Oireachtas but a semi-State body. The agreement was signed before either this or the last Government came to power. I can find no evidence anywhere of Oireachtas oversight of the agreement or of a ministerial signature on it.
It creates a merger or a partnership in respect of our sovereignty. We talk about our sovereignty all the time, yet we are allowing jets of the Royal Air Force, RAF, to fly over the country. The director of Irish military aviation and the general officer commanding, GOC, of the Air Corps has no knowledge whatsoever of the agreement. It is my understanding that when he learned of it, he was taken into a room, shown the agreement and promptly sent home without a copy of it. The person with responsibility for military aviation in this country was not a party to the agreement."
In simple terms, what is this agreement for?
It is understood that the agreement allows British combat aircraft to transit sovereign Irish airspace for air counter-terrorism duties which includes responding to things like unresponsive airliners, hijackings etc. Only at the request of Ireland, though.