The Royal Navy will soon have three new frigate classes, namely the Type 26, Type 31 and Type 32 but how much do you really know about them? This brief guide should bring you up to speed on the basics.
We're all familiar with the various frigate types being built for the Royal Navy but many of us, myself included, may not be fully 'clued-up' on specifics like the build schedule, unit cost etc. So, I wanted to find out.
To this end, I was given access to Shephard's 'Defence Insight' service, a fantastic platform used by industry to evaluate the latest information, modelling and intelligence on almost every defence project in the world, from information on the concept down to build schedules. I'm not exaggerating, it really is that comprehensive.
Type 26
The Type 26 frigate represents the future backbone of the Royal Navy and a massive leap forward in terms of the flexibility of surface vessels enjoyed by the service. The City class will replace 8 of the 12 Type 23 frigates currently in service with the Royal Navy.
It's no secret that Type 26 is designed with modularity and flexibility in mind to enhance versatility across a wide range of operations ranging from counter-piracy and disaster relief operations to high-intensity warfighting. The Type 26 will be an adaptable, powerful and flexible frigate with a wide array of cutting edge sensors and weapons designed to help it effectively and efficiently meet the evolving mission requirements inherent to modern warfare.
The vessels are being built in Glasgow.
How will the ship be armed?
Information released by the Ministry of Defence through responses to written questions or press releases from industry gives the following information.
Anti-air missiles:

48 cell VLS armed with Sea Ceptor

 missiles

Strike-length VLS:

24 cell strike-length Mk 41 VLS (weapons undecided)

Guns:

1 × BAE 5 inch 62-calibre Mk 45 naval gun
2 × 30 mm DS30M Mk2 guns
2 × Phalanx CIWS
2 × miniguns
4 × General Purpose Machine Guns
How much is each ship expected to cost?
'Defence Insight' says that given the cost of the first contract, the unit cost has been estimated on average at $1.59 billion each.
"This is for construction only, therefore the programme value years have been estimated by spreading the estimated unit cost across the construction period of each vessel. The construction value of the first ships sits at $4.77 billion."
When will the ships be delivered?
According to the extensive entry found on the 'Defence Insight' service:
"From the first ships build schedule, the vessel began construction in July 2017 and is expected to take five years to manufacture and a further four years to fit-out and sea trials. The main construction period has therefore been estimated at seven years with launch around 2024 before undertaking sea trials in 2025. The vessel is not expected to enter service before 2027. Based on this schedule for the first vessel and the second ship beginning construction in 2019, the final of the Batch 1 ships is estimated to be delivered in 2030.
For the Type 26 Bath Two, a 'standard' construction period has been estimated at four years, from the beginning of works to the launch, with a further one to two years between launch and commissioning. The first of the Batch 2 frigates, HMS Birmingham, is expected to begin construction around 2023 and the last in 2029. Therefore, deliveries for the Batch 2 vessels can be estimated for between 2028/2029 and 2034/2035."
All eight ships are estimated for delivered by 2037.
Type 31
The Type 31 frigate or Inspiration class was designed by Babcock International, it is also marketed under the name Arrowhead 140 and was based on the hull of the Iver Huitfeldt-class frigate. It is intended that the relatively low-cost Type 31 frigate will replace some of the general-purpose Type 23 frigates.
The Defence Command Paper last year outlined the lighter Type 31 Frigates as "key to our forward presence in the South Atlantic, the Caribbean, the Mediterranean and the Gulf of Guinea, as well as the Indian and Pacific Oceans".
The vessels are being built at Rosyth.
How will the ship be armed?
Information released by the Ministry of Defence through responses to written questions or press releases from industry gives the following information.
Anti-air missiles:

12 cell VLS armed with Sea Ceptor

missiles




Guns:

1 × 57 mm Mk 110 main gun
2 × 40 mm Mk 4 secondary guns
4 × 7.62 mm General Purpose Machine Guns
4 × 7.62 mm Miniguns

For but not with:

Fitted for but not with Mark 41 VLS for Future Cruise/Anti-Ship Weapon
How much is each ship expected to cost?
'Defence Insight' states that the true cost of a Type 31 may be £250 million per unit but this is minus GFE which keeps the average cost of the units at £250 million, including the purchase of diesel engines, shafts and propellers, sensors, CMS and weapon systems.
"This figure will still be a challenge based on what is required. The programme cost to the UK MoD is likely to be higher as it will include additional government-furnished equipment such as Sea Ceptor, electronic countermeasures and another system which are to be drawn from the Type 23's. This could take the cost to £2 billion ($2.6 billion), which each ship in effect costing £400 million ($521.5 million) to deliver into service.
The frigates have a unit cost of $320 million each."
When will the ships be delivered?
According to the extensive entry found on the 'Defence Insight' service:
"Steel was cut for the first Type 31 HMS Venturer on 23 September 2021. The keel of the HMS Venturer was laid down on 26 April 2022. The first frigate is expected to be launched by 2023 and delivered to the Royal Navy in 2024. However, it will become operational no earlier than 2025. All five ships are planned to be delivered by the end of 2028, with the last vessel to enter service in 2030.
The second ship is expected to start production in 2022 for a 2025 delivery, ship three is to start in 2023 and be delivered in 2026, four will begin manufacturing in 2024, aimed to be delivered in 2025, while the fifth and final ship is to begin construction in 2025 for a delivery on the deadline by 2028."
Type 32
Type 32 was first announced by Prime Minister Boris Johnson in November 2020. In addition to the long-known Type 26 and Type 31 frigates, the Prime Minister announced a new Type 32 frigate would be built.
Defence Secretary Ben Wallace subsequently stated that the Type 32 frigate would come "further along from the Type 31", adding that the Royal Navy "requested another class of ship" in order to increase its numbers of surface fighting ships, destroyers and frigates. Many speculate that the vessel will be a 'Batch 2' Type 31.
Later in November 2020, the Ministry of Defence stated that the concept phase for the vessel had not yet been launched but added that the ship is currently envisioned as a "platform for autonomous systems", used in roles such as anti-submarine warfare and mine countermeasures. Like the Type 31 frigate, the ship will be general-purpose in its design.
The vessels will be built at Rosyth, according to Defence Secretary Ben Wallace.
How will the ship be armed?
While the vessel is likely to host drones, we know next to nothing apart from that.
How much is each ship expected to cost?
This is speculated at £300 million.
When will the ships be delivered?
According to the extensive entry found on the 'Defence Insight' service:
"Making judgements on the newly announced programme at this stage is purely speculation but should the new class of frigates requested by the RN be intended to follow a similar track to that of the Type 31, then estimations around the numbers will be based on the preceding class. It's expected this will be a new design to that of the Type 31 but five platforms are estimated at this early state. It is anticipated that they will require some form of MCM capability, being that likely of drones.  
With the class not expected within the next five years, we would expect it to follow the delivery schedule of the Type 31. These are to be delivered between 2024 and 2028. Should this new class begin development around 2025/26, deliveries could begin in the early 2030s."
What is 'Defence Insight' anyway?
Quite simply, it's a tool for companies that incorporates information on major defence systems, subsystems and market forecasting in a single-licence database.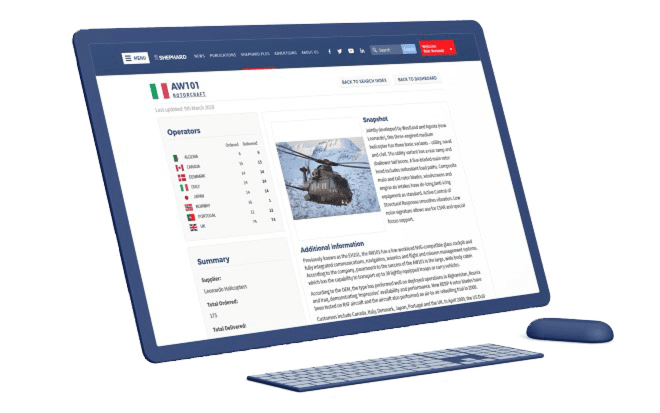 It captures a broad range of data including:
System specifications, unit costs, out-of-service dates, plus orders and deliveries by country
Programme details and existing contract information
In-depth market forecasts
Linked news and analysis from our dedicated team of journalists
With over 85% coverage of global defence spend and more than 11,000 equipment entries – you can see who's bidding on which programmes, view equipment attributes and even see who supplies the subsystem parts of an equipment entry. For over 30 years, Shephard Media has been providing high-quality business intelligence to the aerospace and defence markets, through a combination of magazines, online news services, handbooks and global events.
The company is particularly well known within the rotorcraft, uncrewed vehicles, C4ISR, military logistics, land warfare and maritime security markets and speaking from a purely personal view, I have a great relationship with many members of their team at different levels. They're good at what they do!
This isn't a sales pitch, I genuinely find the system useful for researching and I believe it should be recommended.
If you're interested in a free demo, here's a link you can visit and see if it's something you want, just click here.