The E-7 Wedgetail provides one of the most advanced air battlespace management capabilities in the world and the Royal Air Force have just purchased five of them.
The Wedgetail is an Airborne Early Warning & Control aircraft with maritime search capabilities, the ability to control unmanned aircraft and intelligence gathering capabilities.
The Wedgetail is based on a Boeing 737-700, with the addition of an advanced Multi-Role Electronically Scanned Array (MESA) radar and 10 mission crew console. They can cover four million square kilometres during a single 10 hour mission according to the Royal Australian Air Force.
"The E-7A Wedgetail represents an entirely new capability for the Australian Defence Force, providing an airborne early warning and control (AEW&C) platform that can gather information from a wide variety of sources, analyse it and distribute it to other air and surface assets. 
The E-7A Wedgetail can control the tactical battle space, providing direction for fighter aircraft, surface combatants and land based elements, as well as supporting aircraft such as tankers and intelligence platforms. Based on the 737-700 commercial airliner airframe, the E-7A Wedgetail features advanced multi role electronically scanned radar and 10 state-of-the-art mission crew consoles that are able to track airborne and maritime targets simultaneously."
As the Second Line of Defense put it, the Wedgetail is designed with 'the reach rather than range approach'; the MESA radar can be dialled up in terms of energy and focused in terms of direction on priority scan areas. As one Northrop Grumman engineer reportedly put it:
"There is a fundamental shift operationally in terms of how one uses the Wedgetail versus the AWACS. You no longer are limited or defined by a 360 degree rotator. You are able to configure how much power you want to put into your radar reach; it is configurable to the mission. The integrated IFF and radar functionality also allows the system to reach much greater than other systems into the battlespace to shape greater situational awareness in the battlespace. You can put the energy in the mission area where you have the highest priority."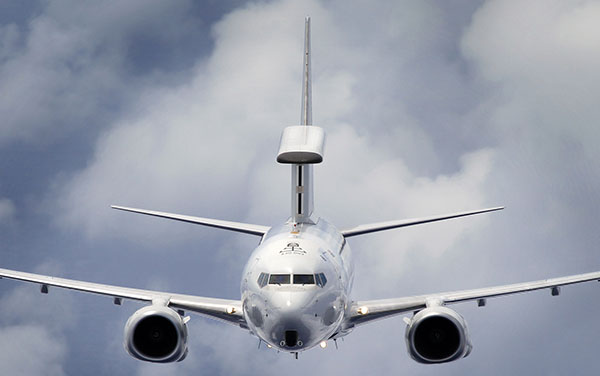 The L-band electronically scanned AEW and surveillance radar is located on a dorsal fin on top of the fuselage, dubbed the "top hat", and is designed for minimal aerodynamic effect.
The system provides 360 degree coverage and is capable of simultaneous air and sea search, fighter control and area search, with a maximum range of over 600km (look-up mode). When operating in look-down mode against fighter-sized target, the maximum range is in excess of 370 km according to Boeing. When used against maritime targets, the maximum range is over 240km for frigate-sized targets. MESA is capable of simultaneously tracking 180 targets and conducting 24 intercepts. Back in 2009, Boeing even demonstrated control of three ScanEagle unmanned aircraft from a Wedgetail.
In addition, the radar antenna array is also doubled as an ELINT (that's a form of covert intelligence-gathering by electronic means) array, with a maximum range of over 850 km at 9,000 metre altitude.
Back in 2014, a Wedgetail conducted the first Australian sortie over Iraq supporting coalition forces conducting airstrikes against Islamic State. The next year, another performed the longest Australian command and control mission in a war zone during a 17-hour, 6-minute combat mission, requiring two air-to-air refuellings to stay aloft.
Wedgetail looks to be maturing nicely in Australian hands with the major early teething troubles now ironed out. It's also currently undergoing a major programme of further upgrades, due to be completed in 2022 that we reported on here.
The type will enter UK service in the early 2020s.