Two Point class ships have transported over 200 vehicles for Exercise Saif Sareea 3 which will take place across Oman in October and November 2018.
Saif Sareea 3 (SS3) is the third UK-Oman joint exercise, with the previous 2 taking place in 1986 and 2001. SS3 is the UK armed forces lead exercise this year and the largest joint exercise of its kind in 17 years.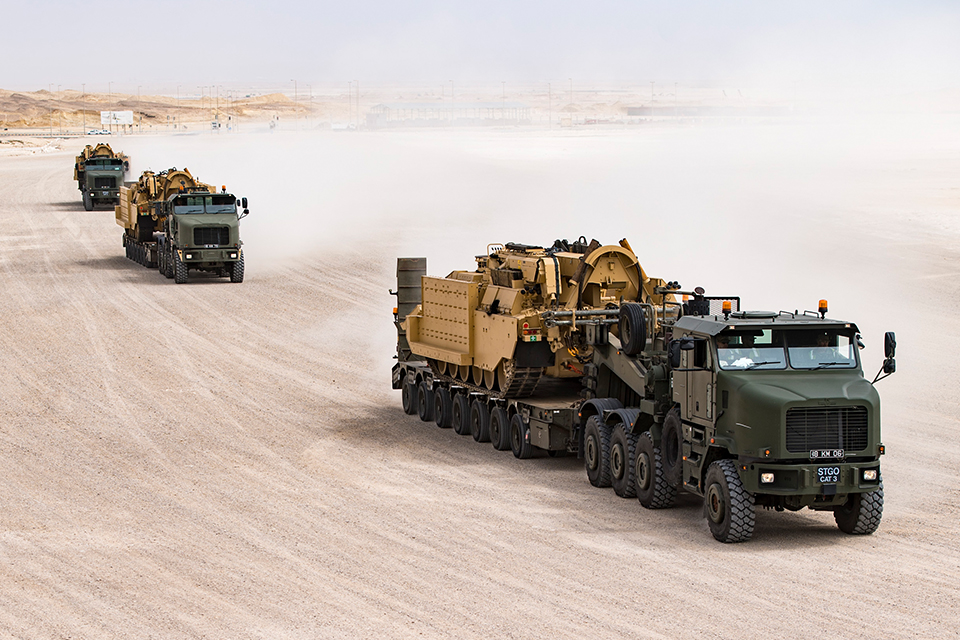 The exercise, culminating in a 'firepower demonstration', will test the UK and Sultanate's ability to operate together in austere conditions through the deployment of a Coalition Joint Task Force, say the Ministry of Defence.
"The 2 RORO ships which arrived this week in Duqm left the military port in Marchwood, near Southampton, in late July. The ships sailed into the Port of Duqm on the 10 and 14 August, each with a cargo of over 3,500 tonnes.
The cargo included vehicles such as Warrior armoured fighting vehicles, Scimitar CVRT (combat vehicle reconnaissance tracked) and Bulldog personnel carriers. Over 200 vehicles were unloaded from the ship belonging to:
1 Mercian
22 Royal Engineers
Royal Tank Regiment
40 Commando Royal Marines
Commando Helicopter Force
The vehicles and other logistical equipment will be transported onwards to the Joint Logistics Support Base in Duqm and other locations ahead of the start of the exercise in October."
The Point class sealift ships are designed for the strategic transport of military cargo and vehicles. Four ships were built by the German company Flensburger Schiffbau Gesellschaft and two built by Harland and Wolff in Belfast. They replaced the RFA Sea Centurion and Sea Crusader in service.
The full six-ship service was only to be required for major operations and exercises which prompted the MoD to pursue a contract for their long term service under the Private Finance Initiative.
Under the contract the provider can make ships available for commercial service with other companies at times when they are not needed by MoD, two of the ships however have been let go from this arrangement leaving the MoD with only four should they be required.
The vessels have 2,650 linear metres of space for vehicles which is able to house 130 armoured vehicles and 60 trucks and ammunition or 8,000 tonnes of vehicles.