The threat comes after Royal Marines seized an Iranian oil tanker in Gibraltar for trying to take oil to Syria in violation of EU sanctions.
Earlier, the Gibraltar government (Gibraltar is a British Overseas Territory) said it had reasonable grounds to believe that the Grace 1 was carrying crude oil to the Baniyas refinery in Syria.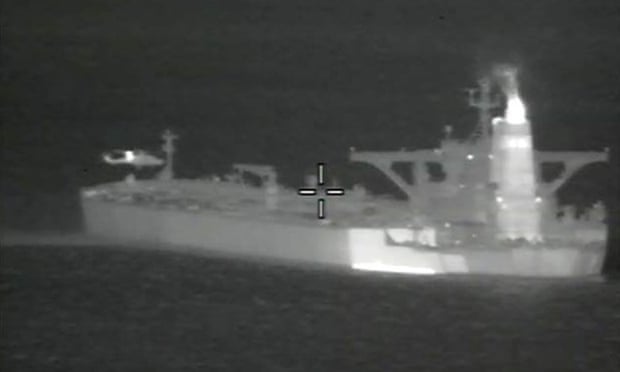 "That refinery is the property of an entity that is subject to European Union sanctions against Syria," Gibraltar Chief Minister Fabian Picardo said.
"With my consent, our port and law enforcement agencies sought the assistance of the Royal Marines in carrying out this operation."
Mohsen Rezai, a senior commander in Iran's Revolutionary Guards said on Twitter:
انقلاب اسلامی در طول تاریخ چهل ساله خود، در هیچ معرکه‌ای آغازگر تنش نبوده، اما در پاسخ به زورگویان و گردنکشان، تعلل نکرده و تردید به دل راه نداده است. انگلیس اگر #نفتکش_ایرانی را رفع توقیف نکند، وظیفه دستگاه‌های مسئول، اقدام متقابل و توقیف یک نفتکش انگلیسی است.

— محسن رضایی (@ir_rezaee) July 5, 2019
Roughly translated, this means:
"If the UK doesn't return the Iranian tanker, the duty of responsible bodies is to seize a British oil tanker in a retaliatory measure."
Iran's Foreign Ministry summoned the British ambassador to voice 'its very strong objection to the illegal and unacceptable seizure' of its ship earlier in the week.
The UK has a naval base, a Frigate, and other naval vessels in the region.
Last month we reported that the Government have "no plans" to send Royal Marines to protect shipping in the Gulf.
Attacks on tankers near the Strait of Hormuz had already ratcheted up tensions in the Gulf in recent weeks, this latest event is surely set to increase them.
Nia Griffith, the Shadow Secretary of State for Defence, had earlier asked in a Parliamentary written question:
"To ask the Secretary of State for Defence, whether her Department plans to send a Royal Marines task group to the (a) Persian Gulf and (b) the Strait of Hormuz to protect British commercial vessels."
Mark Lancaster, Minister of State for the Ministry of Defence, said:
"We have a permanent presence in the Gulf in support of the strong bilateral relations across the region and the UK National Strategy for Maritime Security. We have no plans to send a Royal Marines task group but will continue with the existing exercise programme and deployment of Short Term Training Teams."
The United States has said it will deploy 1,000 more troops to the region, in addition to the 1,500 it had announced in late May.
It remains to be seen what the British Government will do.