It's currently possible to track some British combat aircraft around the world, including those deployed on operations against Islamic State. The Ministry of Defence however, isn't worried.
Kevan Jones, Member of Parliament for North Durham, asked:
"To ask the Secretary of State for Defence, what steps his Department is taking to counter open-source tracking of RAF aircraft."
Mark Lancaster, Minister of State at the Ministry of Defence, replied:
"Safety remains paramount. Most military aircraft are fitted with civil standard Mode S Transponders. Mode S transponders are primarily required by Air Traffic Control centres and for aircraft to identify each other as a key element of air-to-air collision avoidance technology. Open-source tracking is a bi-product of that safety critical technology.
Many military aircraft with an operational role also have NATO Mode 5 military standard Transponders. Popular flight tracking websites track aircraft operating Mode S; they cannot track aircraft operating NATO Mode 5. When undertaking operations which are segregated from civil air traffic, NATO Mode 5transponders can be utilised and Mode S switched off. In addition, many of our military aircraft are fitted with appropriate defensive aids countermeasures and other force protection measures can be employed if deemed necessary.
When operating alongside civil air traffic, military aircraft are mandated to operate Mode S in order to comply with International Civil Aviation Organisation communications, navigation, surveillance and air traffic management systems guidelines. The civilian air safety working processes, hailed as best-practice, are applicable to military aircraft, including all NATO partners."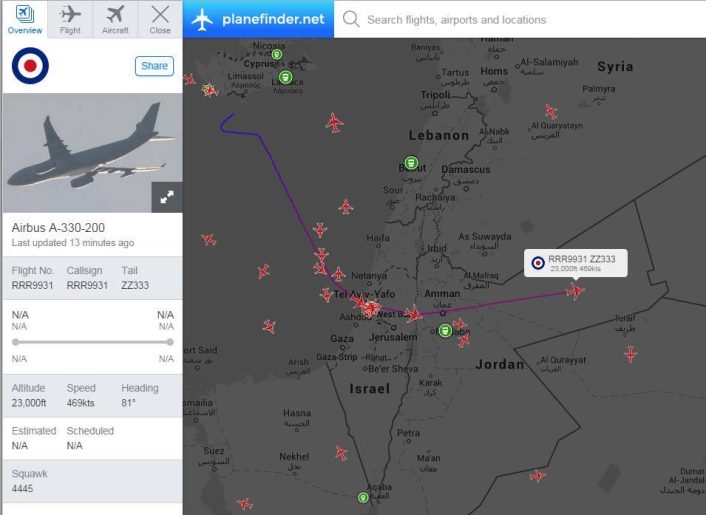 Although the majority of the aircraft you'll be able to track using websites like Planefinder are airliners and business jets, military aircraft are also equipped with Mode-S ADS-B-capable transponder however, these are usually turned off if deemed necessary.