The Submarine Combat Systems Market is estimated to exceed USD 9.5 billion by 2025; according to a new research report by Global Market Insights, Inc.
The firm say that governments across the globe are focusing on enhancing and enlarging maritime warfare capabilities in their naval fleets.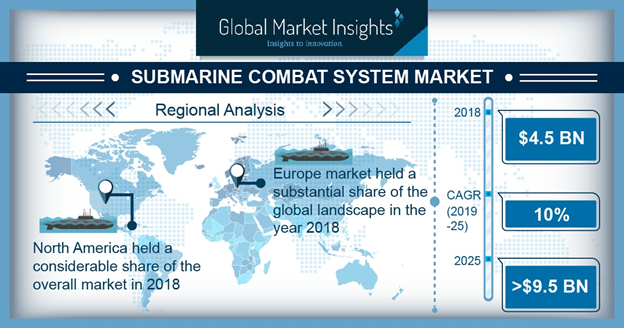 "The rising political disputes among countries, development of advanced submarine systems, and growing requirement to modernise the weapon systems will drive the submarine combat systems market. Additionally, growing usage of fast attack submarines coupled with advantages offered by this system such as stealth capabilities and faster operations will support the market growth."
The report also advises that primary technological advancements of combat systems include usage of artificial intelligence (AI) and computed automation that enhances remote supervision and monitoring of submarines.
In addition, countries including Russia are developing advanced super-cavitating torpedoes. These torpedoes are propelled by rocket engines and attain high speeds of 200 knots an hour. These technical developments will further support penetration of submarine combat systems market over the study timeframe.
In the firm say that the European Submarine Combat System Market share will hold dominance over the study timeframe. The dominance can be attributed to the purchase of new submarines and modernisation of naval fleet by several countries.
"For instance, in 2016, the UK Defense Secretary approved the replacement of existing Vanguard submarines with four Dreadnought nuclear deterrent submarines. These submarines will be equipped with Trident D5 missiles and MK 48 torpedoes."