The deal will see Lockheed Martin start manufacturing Crowsnest, a helicopter-borne airborne early warning and control system for the Queen Elizabeth class carriers.
Under Secretary of State for Defence Procurement Minister Harriett Baldwin announced the deal today onboard Type 45 Destroyer HMS Dragon.
According to a press release:
"The Crowsnest project will act as the Royal Navy's eyes and ears for its next generation carriers, giving long range detection as well as the capability to track potential threats.
Crowsnest will be able to support wider fleet and land operations, replacing the Sea King helicopter's Airborne Surveillance and Control capability that has been deployed on regular operations since 1982.
Lockheed Martin, as q prime contractor for Crowsnest, will integrate the selected Thales solution on to the Merlin Mk2 helicopter fleets. This work will be supported by Leonardo Helicopters, who will modify the fleet to fit Crowsnest. The contract also includes £9 million for initial provisioning of spares to support the Crowsnest system during training and operational deployment."
According to material accompanying the announcement, the Thales solution is an updated and improved version of the Cerberus tactical sensor suite, currently in service on the Sea King Mk7 helicopter.
Crowsnest will be fitted to Merlin Mk2 helicopters, the image below is an infographic provided by the Ministry of Defence.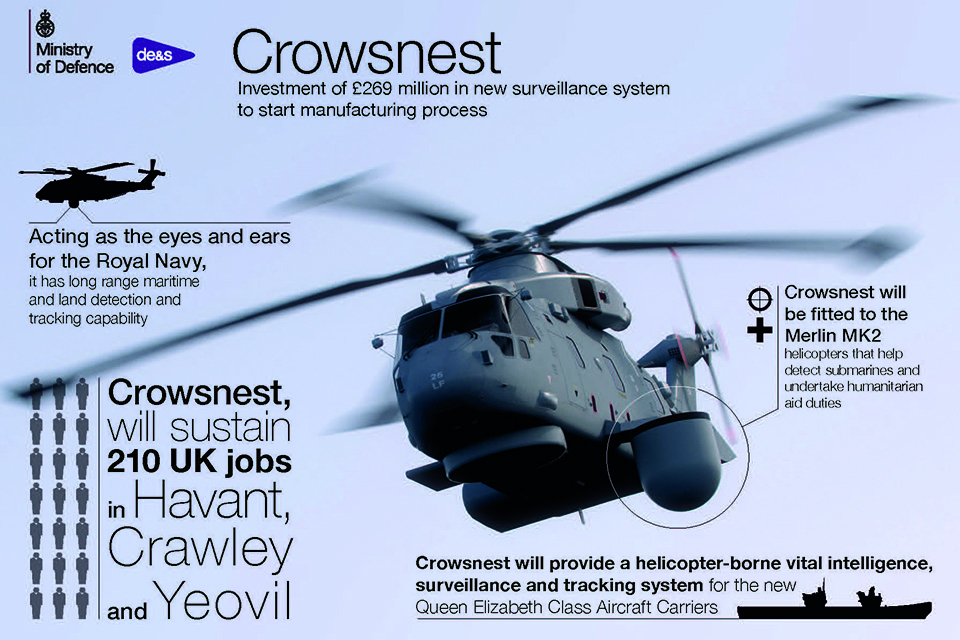 Chief Executive Officer of the MOD's Defence Equipment and Support body, Tony Douglas, said:
"Crowsnest will play a key role in protecting the Royal Navy's future fleet acting as the eyes and ears for the new Queen Elizabeth Class aircraft carriers. This state-of-the-art project will demonstrate how we are providing world-leading, innovative equipment to our Armed Forces.
This contract will also sustain hundreds of UK jobs in the process, highlighting how the MOD, through DE&S, can create a positive and collaborative partnership with industry, benefitting both our Armed Forces and the UK economy."
Air Vice-Marshal Julian Young, Director Helicopters at the MoD's Defence Equipment and Support organisation, said:
"Crowsnest will form an integral part of future carrier operations and act as the Royal Navy's eyes and ears, providing protection through early warning and surveillance.
We have accelerated our programme delivery strategy in order to sustain the capability seamlessly through our Merlin Mk2 helicopters as the Sea King Mk7 fleet retires from service in 2018, and we are confident that the programme will be delivered as planned."