MBDA is working in partnership with Leonardo to develop a new electronic warfare version of the SPEAR weapon system — SPEAR EW — which brings enhanced Suppression of Enemy Air Defence (SEAD) capability to Eurofighter.
MBDA say that SPEAR EW uses the SPEAR missile as its baseline but, instead of a warhead and seeker, the payload is an Electronic Warfare (EW) device which is a state-of-the-art electronic jammer designed to confuse adversaries and keep pilots safe.
WHAT IS SPEAR EW?
"At the heart of SPEAR EW is a miniaturised EW payload from Leonardo, based on the innovative BriteCloud technology. It uses less capacity than a conventional warhead and this extra volume means there's additional fuel capacity. Hence, what looks and behaves exactly like a normal SPEAR has three times the range. Using the existing SPEAR architecture as the starting point has a number of other advantages. SPEAR EW's power, weight, and centre of gravity remain exactly the same so integration is relatively straight-forward because activities that normally bring a level of complexity like flight test and separation clearance are already carried out."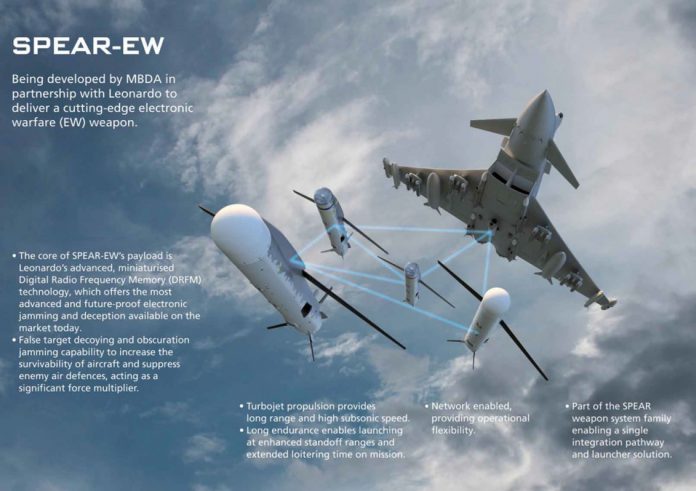 WHAT DOES SPEAR EW PROVIDE?
According to a release:
"It marks a fundamental change in the ability of friendly air forces to conduct their missions despite the presence of enemy air defences. SPEAR EW acts as a stand-in jammer which greatly increases the survivability of the Eurofighter by suppressing enemy air defences. It can be used for multiple different types of EW. At one end of the spectrum it could simply jam a radar, effectively blinding it, and at the other it could mimic 100s of different objects, therefore creating a mask.
This flexibility gives a pilot a range of options. Blinding a threat radar is an overt action but they can call on more subtle effects. For example, SPEAR EW can be used to create a decoy by making you appear bigger or appear as though there are 50 targets so that it's impossible for an adversary to determine which is the real target. Alternatively, you might want to encourage the threat target to start shooting which would enable your forces to find it. Another option could be to get the adversary to train their fire at an imaginary target and therefore allow you through their defences."
SPEAR EW isn't simply restricted to land targets. It could be used for maritime strike to blind or confuse a ship.
WHAT IS THE CURRENT STATUS?
MBDA and Leonardo have been awarded a contract to carry out a Technical Demonstration Programme (TDP) by Defence Equipment & Support (DE&S).
This one-year contract continues the development work already carried out by MBDA and Leonardo.
This will enable that work to mature. One of the aims is to keep development of SPEAR EW as closely aligned with the main SPEAR programme as possible to ensure any integration work is as seamless as possible.