The MV Glen Sannox, currently four years behind schedule, has been moved down the Clyde to Greenock to rectify major build issues as part of a £400,000 contract.
Ferguson Marine Engineering had earlier joined a group of defence contractors bidding for the new £1.25 billion Type 31e general purpose light frigate programme, it remains to be seen if they still intend to take part.
The dry dock period is a major step in Ferguson's revised programme to complete the two public sector vessels, say the firm.
"MV Glen Sannox requires a remediation package of work, including replacement of the bulbous bow, paint repair, removal of marine growth from the vessel hull, and other work. The repairs and rework were identified during the review of the condition of the two dual fuel vessels, conducted after the shipyard went into administration in August 2019, and are included in the programme review board report published in December 2019."
The first steel for the troubled MV Glen Sannox was cut on the 7th April 2016 and Glen Sannox was launched on 21 November 2017 by the First Minister Nicola Sturgeon. In 2018, new Cabinet Secretary for Transport Michael Matheson said it had been confirmed that the ship was to be delivered in June 2019, followed by two months of crew familiarisation and sea trials.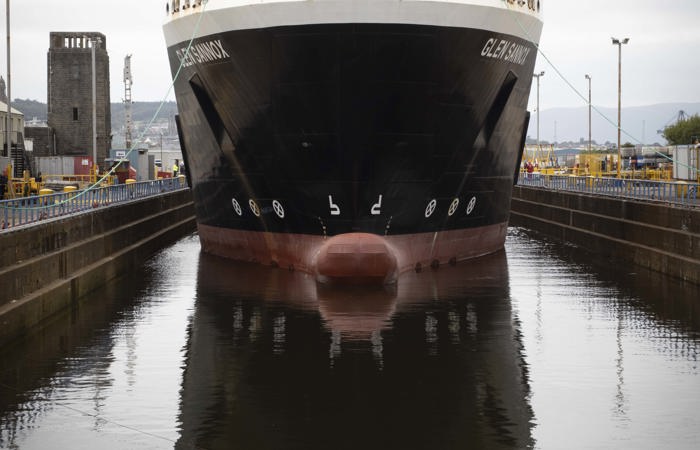 Further dispute over the contract overrun led to the shipyard going into administration and being nationalised by the Scottish Government. A report produced after nationalisation indicated that Glen Sannox should be handed over to CMAL in the last quarter of 2021 and that completing the two ferries is likely to increase the total cost to over £207M.
In 2020, Ferguson Marine contracted with International Contract Engineering, a marine design consultant, to revise the design and outfitting of Glen Sannox in advance of her eventual delivery.
She is scheduled to return to the Ferguson's shipyard in Port Glasgow at the end of the month.
Tim Hair, turnaround director at Ferguson Marine (Port Glasgow) Ltd, said:
"This is a key milestone in the recovery programme for the dual fuel vessels.  Some work has been carried out on MV Glen Sannox at the shipyard, but the dry dock period is important because it will bring the vessel up to a condition that will allow us to move forward in earnest with the vessel completion plan.
It is also another clear sign of recovery for the shipyard business and comes only weeks after the launch of a steel barge for a customer in the offshore oil and marine sector. Obviously, the Covid-19 pandemic lockdown has impacted activity at the shipyard, but our workforce has been returning to outdoor working since the end of June and we are operating effectively with social distancing controls in place."