The first three Royal Air Force personnel have arrived in Australia for training on the RAAF's E-7 Wedgetail aircraft.
According to the Australian Defence Magazine, three RAF crewmembers, comprising a pilot, an Electronic Support Measures Operator (ESMO), and a Surveillance and Control Officer began their Wedgetail conversion course with 2 Sqn at Williamtown about three weeks ago.
"Number 2 Squadron has just taken on-board some trainees, both from the UK and the US – both pilots and back end mission crew," 2 Sqn Senior Engineer Officer (SENGO) Squadron Leader Shane Taylor said at RAAF Base Tindal last week. "They will be progressing through the training continuum over the coming twelve to eighteen months and certainly other countries are expressing an interest in this capability." 
They say that the news follows the recent demonstration of the Wedgetail's capability at RAF Waddington, home of the RAF's Sentry fleet. One aircraft attended the Royal International Air Tattoo at RAF Fairford in July and deployed to Waddington after the show to demonstrate its capabilities to the UK's Sentry force.
The E-7A Wedgetail provides one of the most advanced air battlespace management capabilities in the world and the Royal Air Force are rumoured to be interested in it to replace their E-3D Sentry aircraft. The aircraft is an Airborne Early Warning & Control aircraft with maritime search capabilities, it has the ability to control unmanned aircraft and it has intelligence gathering capabilities.
We recently reported that options for the future delivery of the UK's Airborne Warning and Control capability are being explored, with the focus now on replacing the E-3D Sentry fleet.
We understand that upgrades however are reportedly considered to be expensive. According to Janes here, maintenance is becoming increasingly costly and replacing them instead might be the most cost-effective option.
Some industry commentators are also arguing for a new aircraft type altogether. The large sums of money allocated to upgrading the E-3D fleet should be used to purchase a more advanced off-the-shelf aircraft, a defence analyst has argued. Justin Bronk, Research Fellow, Airpower and Technology, outlines options for replacing the E-3 fleet in his paper 'The Future of Air C2 and AEW: E-3 Sentry, Threat Technologies and Future Replacement Options':
"The RAF's E-3Ds need a £2-billion CSP both to bring them to rough parity with current US and French standards by the mid-2020s and to stretch the fleet out to 2035 in the process. However, the E-3, even in modernised form, is no longer a cutting-edge ABM&S system in a world where proliferating long-range missile systems and emerging non-Western low-observable fighters can force it to stay hundreds of kilometres from contested airspace, placing a higher premium on BLOS communications capacity rather than onboard sensors.
Even when it is able to operate closer to the battlespace, the AN/APY-1/2 mechanically scanned radar array common to all E-3s has significant inherent limitations in terms of its ability to detect low-observable, very slow moving and hypersonic threats, unlike more modern AESA-equipped AWACS types already in service with the US Navy and various air forces around the world. An AESA-equipped ABM&S platform with improved communications node capabilities, based on a commercial-derivative airframe, seems a logical alternative option which could provide the RAF with a more capable and efficient alternative to extending the life of the E-3D over the next 20 years."
Both the Sentry and Wedgetail are designed to monitor airspace to provide threat detection of adversary aircraft and situational awareness on friendly assets.
The E-7A Wedgetail is based on a Boeing 737-700, with the addition of an advanced Multi-Role Electronically Scanned Array (MESA) radar and 10 mission crew console. They can cover four million square kilometres during a single 10 hour mission according to the Royal Australian Air Force.
"The E-7A Wedgetail represents an entirely new capability for the Australian Defence Force, providing an airborne early warning and control (AEW&C) platform that can gather information from a wide variety of sources, analyse it and distribute it to other air and surface assets. 
The E-7A Wedgetail can control the tactical battle space, providing direction for fighter aircraft, surface combatants and land based elements, as well as supporting aircraft such as tankers and intelligence platforms. Based on the 737-700 commercial airliner airframe, the E-7A Wedgetail features advanced multi role electronically scanned radar and 10 state-of-the-art mission crew consoles that are able to track airborne and maritime targets simultaneously."
As the Second Line of Defense put it, the Wedgetail is designed with 'the reach rather than range approach'; the MESA radar can be dialled up in terms of energy and focused in terms of direction on priority scan areas. As one Northrop Grumman engineer reportedly put it:
"There is a fundamental shift operationally in terms of how one uses the Wedgetail versus the AWACS. You no longer are limited or defined by a 360 degree rotator. You are able to configure how much power you want to put into your radar reach; it is configurable to the mission. The integrated IFF and radar functionality also allows the system to reach much greater than other systems into the battlespace to shape greater situational awareness in the battlespace. You can put the energy in the mission area where you have the highest priority."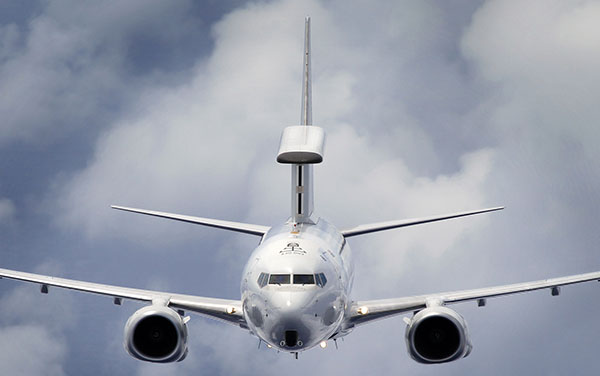 The L-band electronically scanned AEW and surveillance radar is located on a dorsal fin on top of the fuselage, dubbed the "top hat", and is designed for minimal aerodynamic effect.
The system provides 360 degree coverage and is capable of simultaneous air and sea search, fighter control and area search, with a maximum range of over 600km (look-up mode). When operating in look-down mode against fighter-sized target, the maximum range is in excess of 370 km according to Boeing. When used against maritime targets, the maximum range is over 240km for frigate-sized targets. MESA is capable of simultaneously tracking 180 targets and conducting 24 intercepts. Back in 2009, Boeing even demonstrated control of three ScanEagle unmanned aircraft from a Wedgetail.
In addition, the radar antenna array is also doubled as an ELINT (that's a form of covert intelligence-gathering by electronic means) array, with a maximum range of over 850 km at 9,000 metre altitude.
Wedgetail looks to be maturing nicely in Australian hands with the major early teething troubles now ironed out. It's also currently undergoing a major programme of further upgrades, due to be completed in 2022 that we reported on here.
Back in 2014, a Wedgetail conducted the first Australian sortie over Iraq supporting coalition forces conducting airstrikes against Islamic State. The next year, another performed the longest Australian command and control mission in a war zone during a 17-hour, 6-minute combat mission, requiring two air-to-air refuellings to stay aloft.
What we don't know however is how closely the Wedgetail matches what the Royal Air Force want from an E-3D Sentry replacement but the degree of commonality with P-8A Posiedon Maritime Patrol Aircraft being purchased can't be a bad thing, especially when Wedgetail also has an enhanced maritime search capability which may be useful in augmenting
the relatively few P-8s being purchased
, this is something I believe places it ahead of other new platforms like the more costly E-767 operated by Japan.
Wedgetail, in my opinion, is the only real contender short of a bespoke (and no doubt therefore expensive) platform developed for the UK.