The UK's first Protector RG Mk1 aircraft has successfully completed its first flight after coming off the production line, say the Ministry of Defence.
The latest milestone in the UK Protector programme follows the announcement in July that the first three aircraft were being manufactured following the award by the Ministry of Defence (MOD) of a £65 million contract to General Atomics – Aeronautical Systems Inc (GA-ASI).
"The aircraft took to the skies in the US on Friday, September 25, under the watchful eye of GA-ASI staff. Protector RG Mk1, which will replace the current Reaper Force when it is introduced to the front-line, is considered a step change in capability for the RAF. The cutting-edge platform will be capable of being flown anywhere in the world while being operated by personnel located at their home base at RAF Waddington, Lincolnshire where it will enter service by mid-2024."
Defence Minister Jeremy Quin, was quoted as saying:
"The inaugural flight of the UK's first Protector is an exciting and welcome step in the development of our ground-breaking fleet. With increased range and endurance, greater ISR and weapons capacity and improved weather resilience, Protector will play a vital intelligence and deterrent role in countering future threats."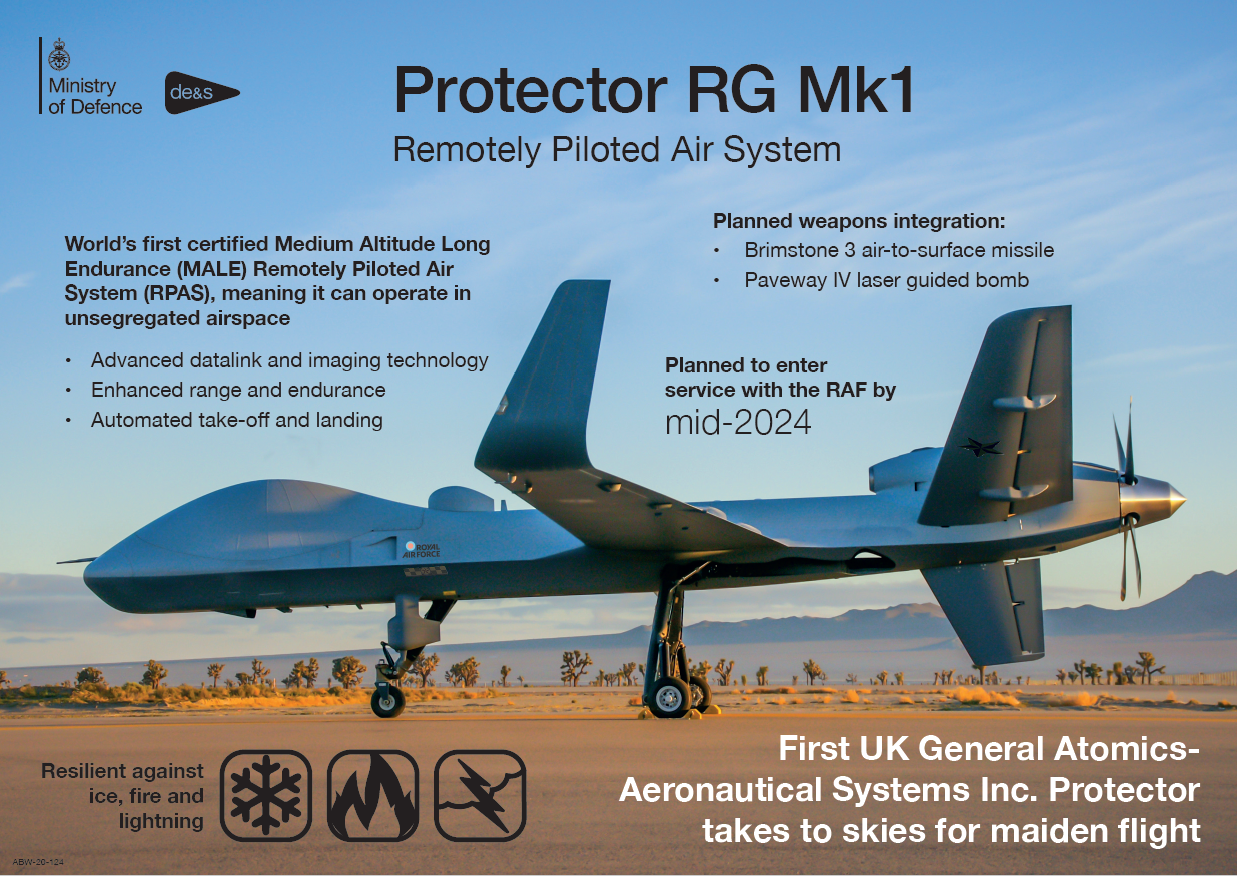 This first Protector aircraft will remain in the US to support system testing as part of a combined UK MoD, US Air Force and GA-ASI test team. Upon completion of this initial testing, it will be delivered to the MOD in the summer of 2021 but will remain in the USA to complete the RAF's test and evaluation programme.
This is the first of the three Protector aircraft currently on order, although the contract includes an option for the remaining 13 aircraft to complete the currently planned fleet of 16 aircraft that will "more than double" the capability currently provided by Reaper.
You can read more about this here.