The Northern Ammunition Jetty in Glen Mallan, Scotland, is currently being refurbished to better support the British surface fleet, including the new aircraft carriers, in loading and unloading ammunition.
According to an update from Craig MacDonald, the Project Manager in charge of the refurbishment, this week marks one year since teams started construction work to refurbish the Northern Ammunition Jetty.
"Since my last update, the construction of the jetty has really progressed and it's rewarding to see refurbishment works taking shape. Bringing the Royal Navy's surface fleet into Glen Mallan requires a new jetty structure, five new mooring dolphins, two pedestal cranes and lots more infrastructure."
What has been done so far?
"We recently hit a major milestone by completing the installation of all 127 jetty piles into the seabed. These support a reinforced concrete deck on the new jetty and walkways. This  allows us to work "on land" from the new jetty deck which sits on top of the piles. The jetty piles are made out of steel and were produced between a yard in Glasgow and a mill in Turkey. They were driven into the seabed using a piling technique until they had a firm hold on the bedrock. They were then drilled out to allow concrete to be poured creating a bond between the bedrock and the pile.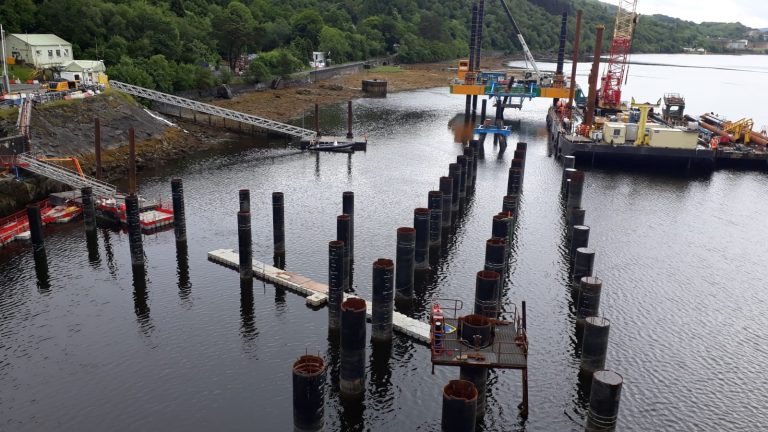 We're also installing four new navigational markers, which are special lights that will enable pilots to safely navigate in and out of Glen Mallan. The lights are mounted on large steel tower structures rising up to 30 metres from the seabed. The tops of these towers will be installed by a crane barge later in the year. The lights are powered by solar panels without using the national grid, which has saved the team at DIO and VolkerStevin the job of having to lay electrical cables into the seabed. To minimise disruption to local vessels and the public, the lights will only be visible along certain routes."
In Spring 2021, the refurbishment of the jetty will be complete.
You can read the rest of the update here and I recommend you do, Craig also explains what the next steps are and some of the challenges the team have faced.