The British flagged 'Stena Impero' tanker has been seized by Iran.
The vessel had taken a very sudden turn into Iranian waters despite her original destination being Saudi Arabia, according to data relayed by maritime tracking services.
It is understood that the company, Stena Bulk, have confirmed that there are 23 personnel on the ship and that the ship was approached by "unidentified small crafts and a helicopter".
The company said in a statement:
"There have been no reported injuries and their safety is of primary concern to both owners and managers. Northern Marine Management has not been able to establish contact directly with the vessel since it was notified of the incident at approximately 16.00 today, 19th July 2019."
The British Government's emergency committee, COBRA, is meeting to discuss the incident.
CNN: The British-flagged tanker 'Stena Impero' has been seized, according two US defense officials. One of the officials said the tanker was taken by Iran.

— @barbarastarrcnn
and @rabrowne75

— Jake Tapper (@jaketapper) July 19, 2019

Iran's PressTV has also reported that the Islamic Revolutionary Guard Corps took control of the UK-flagged Stena Impero.
This looks bad. UK-flagged tanker "Stena Impero" has taken a very sudden turn in to Iranian waters. It is listed as going to Saudi Arabia. @thinkdefence @UKDefJournal @ELINTNews @DefenceSenseUK @air_intel @AuroraIntel pic.twitter.com/1FHg2oc8bh

— The Brit (@TheBrit96) July 19, 2019
This is the second foreign vessel Iran has seized int he last month, the country recently released footage of an Iranian vessel circling the Panama-flagged tanker Riah.
The Stena Impero is now in Qeshm in Iran but had been originally sailing towards Al Jubail in Saudi Arabia.
Here's an image by Relic in Crustacean Nation – this track is the rather concerning part. pic.twitter.com/TGwzYJeegb

— dog (@IntelDoge) July 19, 2019
The Iranian Islamic Revolutionary Guard Corps have confirmed the news.
IRGC confirms they've seized the British flagged oil tanker Stena Impero#Iran #UK

— CNW (@ConflictsW) July 19, 2019
---
Background
Earlier in the month, Iranian naval craft unsuccessfully attempted to seize a British flagged oil tanker in the Persian Gulf. The tanker 'British Heritage' was sailing out of the Persian Gulf and was crossing into the Strait of Hormuz area when it was approached by boats from the Iranian Islamic Revolutionary Guard.
Royal Navy frigate HMS Montrose had been escorting the tanker and it has been reported that the British warship 'pointed its guns at the Iranian boats' in order to deter the seizure.
The Iranian boats then reportedly withdrew after HMS Montrose warned them to move away.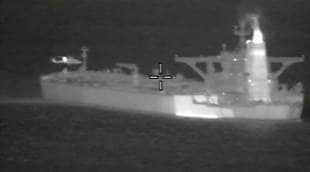 This chain of events started when a fuel tanker believed to be carrying crude oil to Syria in violation of EU sanctions was detained in Gibraltar.
The vessel, 'Grace 1', was halted in the early hours of this morning by Gibraltar police and customs agencies, aided by a detachment of Royal Marines.