The Royal Navy has used drones as 'Red Air' adversaries for the first time from a British aircraft carrier, clearing the way for routine deployments.
The demonstration was a proof of concept for the Royal Navy's Future Maritime Aviation Force, and required the launching of drones from the deck of the Royal Navy's HMS Prince of Wales aircraft carrier for the first-time off UK waters.
While this was known about last month, Qinetiq now say that the Banshees provided the crew of HMS Prince of Wales the opportunity to run drills by emulating cruise missiles and enemy fast jets which may be faced on mission.
"The Banshee can operate at 25,000ft, or just above the waterline, and fly at speeds of up to 400 knots, delivering a realistic adversary to train against. The use of the drones as enemy aircraft was essential in helping the carriers improve their defence capabilities as the size of the Banshee is representative of an incoming missile on radar systems."
Phil Kelly, Senior Responsible Owner for the RN's Future Maritime Aviation Force, said:
"This demonstration marked a crucial step in the Royal Navy's future maritime aviation roadmap and its ability to train anywhere in the world with uncrewed assets. The partnership with QinetiQ has proven invaluable in our ability to support our training needs."
"The demonstration shows how our ongoing partnership with the Ministry of Defence enables all branches of our armed forces to train effectively against threats in a realistic scenario," said Steve Fitz-Gerald, Group Managing Director Maritime & Land, QinetiQ.
"The use of crewless technology is paramount to the Royal Navy's future programmes. This demonstration delivers an efficient method of training, ensuring the correct payloads are used against the appropriate target to deliver value for money, whether at home or during deployment overseas. It's anticipated that this form of training will become best practice in the near future."
The Banshee Jet-80 drone was developed by Qinetiq, on their website they say:
"Developed from the successful Banshee target, this twin-jet engine powered version was developed using knowledge and experience gained whilst operating the single jet engine variant which entered service in 2010.
The current version is fitted with twin 40kg thrust gas turbine engines giving a total of 80kg of static thrust. This offers an increase in the maximum straight and level airspeed of up to 180metres/second. The use of an auxiliary fuel tank ensures that endurance is similar to that of the single engine version with a typical mixed throttle mission time in excess of 45 minutes.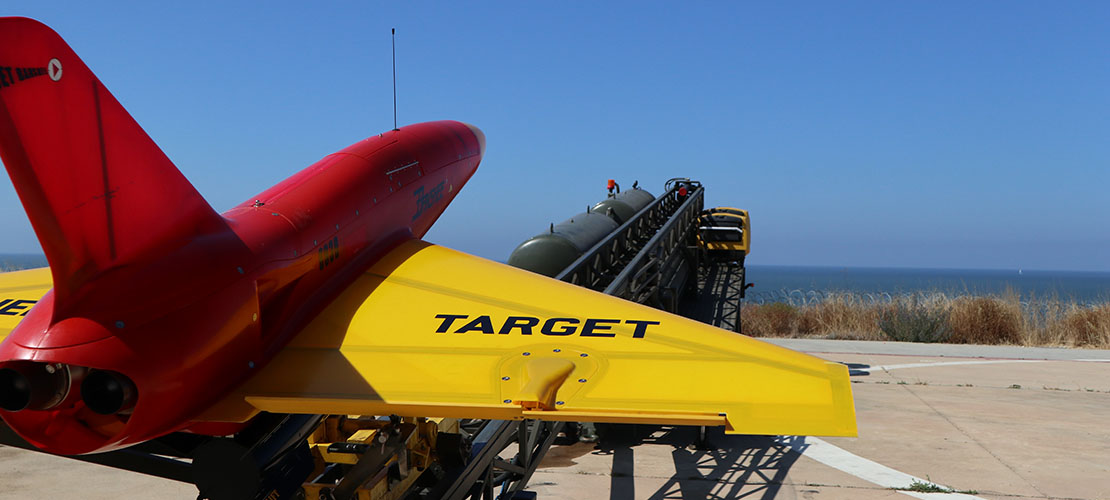 When fitted with the patented Hot Nose the target provides a forward and side-looking IR source with output in Bands I, II and III, whilst the jet engines provide a realistic rearward looking IR signature. All other well proven augmentation devices traditionally available to Banshee can be fitted to this latest twin jet engine derivative."