The MV Mesdar, originally bound for Saudi Arabia, hahad been stopped by Iran.
The vessel, like the earlier seized Stena Impero, was observed on maritime tracking services making a sudden turn and heading towards Iran causing concern. Such was the confusion around the incident, even UK government sources for some time believed that this second vessel had been seized.
Sources in Iran now report that the MV Mesdar had only been stopped in order to be notified regarding 'environmental & maritime regulations' and was then allowed to continue.
More on what actually happened will likely come out in the following days.
The vessel is Liberian-flagged but British owned and is the second tanker stopped by Iran today.
There you go! https://t.co/jwm98XIWZ2

— ELINT News (@ELINTNews) July 19, 2019
The vessel followed a similar pattern to the previous vessel seized earlier today, which was reported here.
No Brits in crews on either ship seized by Iran, UK Foreign Sec Jeremy Hunt says.

— Alexander Marquardt (@MarquardtA) July 19, 2019
Strange, Liberian flagged tanker MESDAR meant to be heading to Saudi Arabia has also made a sharp change of course to Iran pic.twitter.com/9uU9sGyozu

— Intel Air & Sea (@air_intel) July 19, 2019
#BREAKING: IRGC is holding a second tanker run by a British company https://t.co/Y5K52kcsWZ

— ELINT News (@ELINTNews) July 19, 2019
The British Government's emergency committee, COBRA, is meeting to discuss both incidents.
More as this develops.
---
Background
Earlier in the month, Iranian naval craft unsuccessfully attempted to seize a British flagged oil tanker in the Persian Gulf. The tanker 'British Heritage' was sailing out of the Persian Gulf and was crossing into the Strait of Hormuz area when it was approached by boats from the Iranian Islamic Revolutionary Guard.
Royal Navy frigate HMS Montrose had been escorting the tanker and it has been reported that the British warship 'pointed its guns at the Iranian boats' in order to deter the seizure.
The Iranian boats then reportedly withdrew after HMS Montrose warned them to move away.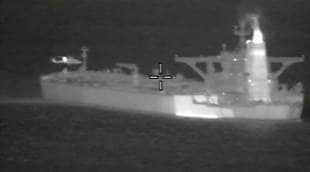 This chain of events started when a fuel tanker believed to be carrying crude oil to Syria in violation of EU sanctions was detained in Gibraltar.
The vessel, 'Grace 1', was halted in the early hours of this morning by Gibraltar police and customs agencies, aided by a detachment of Royal Marines.