The new tanker was unveiled in a ceremony at Daewoo Shipbuilding and Marine Engineering in South Korea.
UK Chief of Materiel Vice Admiral Simon Lister and the British Ambassador to South Korea Charles Hay attended the ceremony, accompanied by senior representatives from DSME.
Speaking at the naming ceremony, Vice Admiral Simon Lister said:
"With the naming of RFA Tiderace, the Royal Navy looks forward to another new arrival into our future fleet.
The Tide-class will supply our fighting ships, including our two new aircraft carriers, with fuel and stores, allowing them to remain on task for as long as required. But they offer more. Through their ability to support an array of forces, such as helicopters and Royal Marines, the Tide Class will also be able to make a direct contribution to counter terrorism, maritime security and disaster relief operations around the world."
British Ambassador Charles Hay said:
"This is another great example of UK-Korean cooperation in defence and security. The RFA Tiderace is the result of a successful collaboration between DSME and a range of UK companies, whose skills have complemented each other to deliver this complex project. I am delighted to see this further example of the UK and RoK working together to ensure a safe and secure region and world."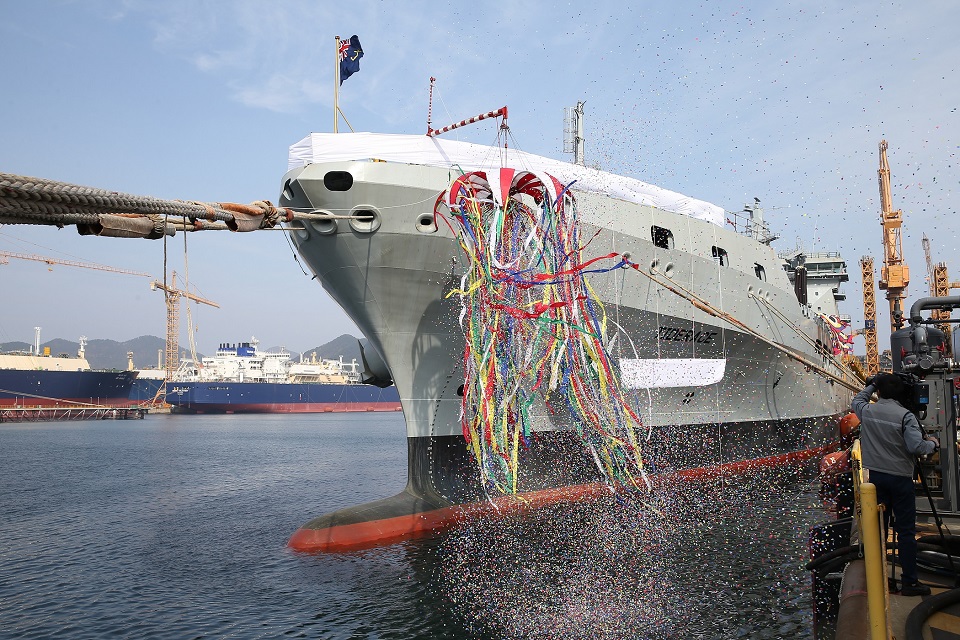 RFA Tidespring, the first new Tide class tanker, is now eight months late and has still not been accepted by the Ministry of Defence.
The information comes to light in a response to a question asked by Douglas Chapman, Dunfermline and West Fife.
"To ask the Secretary of State for Defence, what the principal technical faults are that have led to the delay of the transfer of the RFA Tidespring to the UK for customisation and capability assessment trials until 2017."
Harriett Baldwin, Parliamentary Under Secretary of State at the Ministry of Defence, answered:
"Delays in finalising elements of electrical design and the installation of Multi-Cable Transit insulation in accordance with new legislative regulations resulted in some adjustments in the build schedule.
These issues have now been resolved and Tidespring is expected to arrive in the UK in early 2017 to begin UK customisation and capability assessment trials.
Notwithstanding these issues, which are not unusual for any First of Class ship, build of the remaining ships in the Class is progressing well and we remain confident that all four tankers will be in service with the Royal Fleet Auxiliary by the end of 2018, as planned."
The Tide class tanker is a class of four fast fleet tankers that will enter service with the Royal Fleet Auxiliary. The 37,000 tonne ships will provide fuel, food, fresh water, ammunition and other supplies to Royal Navy vessels around the world.
First steel was cut on the 24th of June 2014 for RFA Tidespring, she was expected to arrive in Falmouth in Spring 2016 to allow A&P Group to fit military equipment such as communications gear. Her three sister ships were to follow at six-month intervals.
As reported by DefenceNews, a spokeswoman for the MoD said:
"We remain confident of delivering the MARS Tanker project within the original approved budget and expect all four tankers to be in service by 2018 as planned.
As with all major projects, timelines are regularly reviewed and the nature of this contract means the MoD is protected from any unplanned cost increases."
Norway has ordered a 26,000 t version with a 48-bed hospital and greater solid stores capacity, for delivery in October 2016 as HNoMS Maud.
The Koreans are coming! Latest picture of RFA Tidespring at DSME shipyard Opko, South Korea 23/6/16 via Iappino pic.twitter.com/YZuQ5JkefJ

— Modern Royal Navy (@ModernNavy) June 27, 2016
The two variants are both based on the AEGIR design from Britain's BMT Defence Services but are being built by Daewoo in South Korea with final outfitting in the UK and Norway respectively.