The Royal Navy has awarded a contract for a large autonomous submarine.
Plymouth-based MSubs Ltd are to provide the Royal Navy with a 30-metre underwater vehicle with a range of up to 3,000 nautical miles.
According to a Royal Navy news release the XLUUV (Extra Large Unmanned Underwater Vehicle), known as Manta, has been designed and built in just 14 months.
A Ministry of Defence statement said:
"An initial £1 million contract has been awarded to Plymouth-based MSubs Ltd to build a test submarine that will be used to explore the potential capabilities of larger uncrewed underwater vehicles in the future. Measuring about 30m in length, this extra-large autonomous submarine is significantly larger than autonomous submarines used for beach reconnaissance, allowing it to operate at a range of 3000 nautical miles.
XLUUV submarines are especially adept at covert intelligence gathering. They can leave their dock autonomously and secretly move to the operational area without any embarked crew for up to three months. They are also able to sense hostile targets and report their findings back to the station, making them an important barrier for anti-submarine warfare."
For more imagery and specifications, see the MSubs website here.
"I am really excited by the possibilities that this offers to increase our reach and lethality, improve our efficiency and reduce the number of people we have to put in harm's way," Admiral Radakin was quoted as saying.
Paddy Dowsett from MSubs said in a news release:
"We are thrilled to be awarded this contract through DASA, and have the opportunity to work with defence scientists and experts to develop new and advanced capabilities for the Royal Navy. This funding will allow the Royal Navy to better understand their future roles and for us to remain at the forefront of Extra Large Uncrewed Underwater Vehicles (XLUUV) design and manufacture in Europe."
What could the submarine look like?
MSubs say that 'XLUUV/Manta/S201' is "a 9 metre, 8.9 tonne vehicle intended for 48hr operation at depths up to 305m", it is likely however to be modified to fit the 30 metre and 3,000 nautical mile range detailed by the First Sea Lord.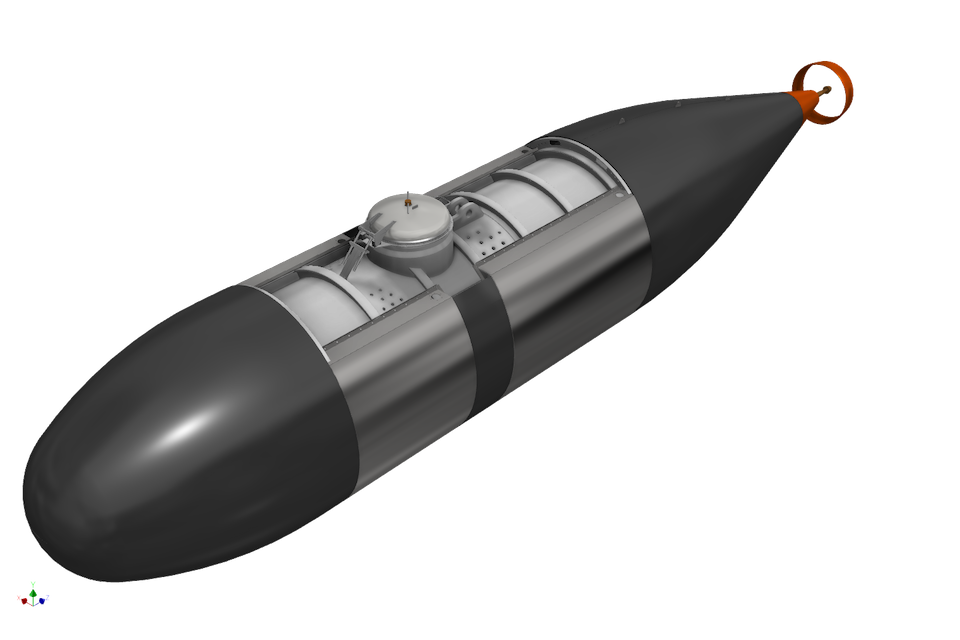 "XLUUV/Manta/S201 is an 8.9 tonne vehicle intended for 48hr operation at depths up to 305m. This project is an example of our rapid prototyping capabilities. From outline specification to launch took just 14 months. Dived performance is maximised by attention to streamlining of the outer hull and by the use of advanced motor technology to directly drive the main propeller. Surface running is possible with one crew member on deck and hatch closed, at speeds up to 6kn in modest sea states, but the vessel's primary mode of deployment is by crane-in."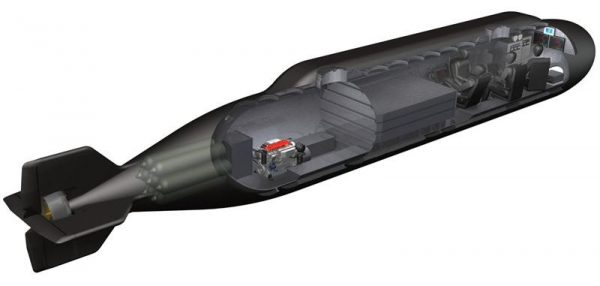 What are the next steps?
The first phase of DASA's Developing the Royal Navy's Autonomous Underwater Capability programme will see an existing crewed submersible refitted with autonomous control systems, say the Ministry of Defence.
"If initial testing is successful, up to a further £1.5 million is available to further test the new capability."