Raytheon say it has successfully completed more than 1,700 rigorous wind tunnel tests on the newest, extended-range variant of the AMRAAM air-to-air missile.
AMRAAM ER is made up of the front-end of an AMRAAM missile and the back-end – or the rocket motor – of Raytheon's Evolved Sea Sparrow missile (ESSM).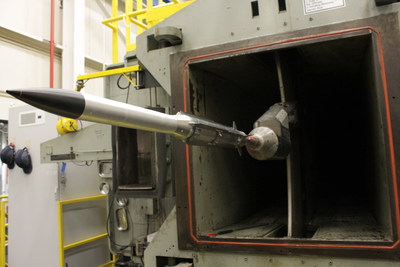 Testing is a major step in the missile's qualification for integration with the NASAMS surface-based system, say the firm.
The AMRAAM-ER missile is a ground-launched weapon that will intercept targets at longer distances and higher altitudes. The missile's bigger rocket motor and smarter flight control algorithms give it a boost in range.
"During these tests, we put AMRAAM-ER through a full range of potential flight conditions to validate the missile's future performance on the battlefield," said Kim Ernzen, Raytheon Air Warfare Systems vice president.
"Raytheon is developing this missile to enhance ground-based air defense for our customers worldwide."
Raytheon say its engineers will now analyse data from the wind tunnel test runs to verify and update the AMRAAM-ER missiles aerodynamic models to maximise its performance.