HMS Queen Elizabeth and her escorts were joined by American warships off the United States coast.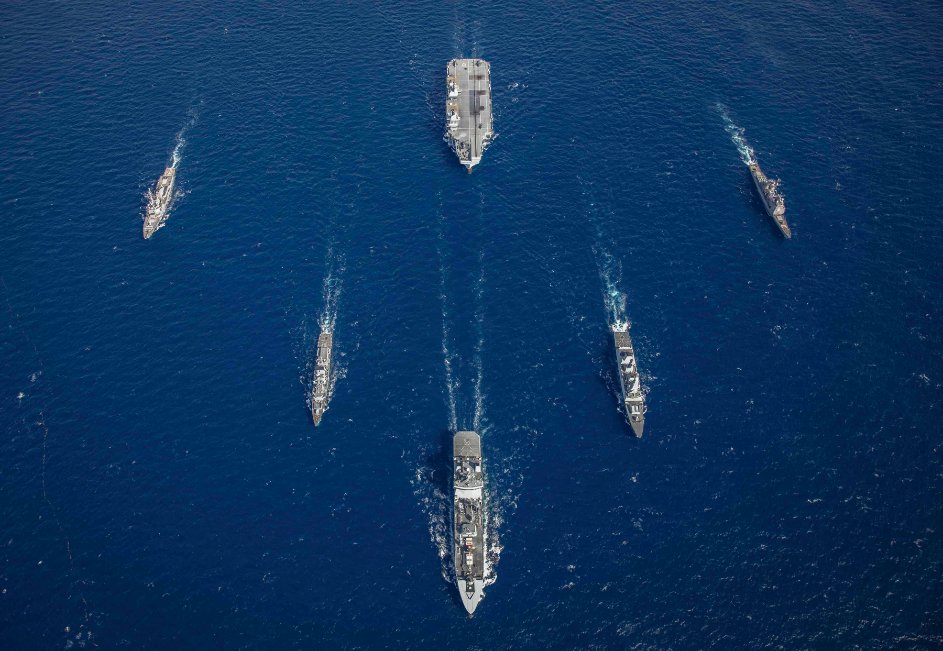 Ticonderoga class cruiser USS Philippine Sea and the Arleigh Burke class Destroyer USS Truxtun joined the British carrier and her escorts HMS Dragon and HMS Northumberland.
Welcome to the Queen Elizabeth Carrier Strike Group, USS Philippine Sea and USS Truxtun @USNavy. The Ticonderoga-class guided missile cruiser and Arleigh Burke-class destroyer have joined us as #UKF35 jet trials continue in the USA #WESTLANT19 #jointcapability @RoyalNavy pic.twitter.com/6sY2szBKXM

— HMS Queen Elizabeth (@HMSQNLZ) November 12, 2019
HMS Queen Elizabeth is the biggest ship ever constructed for the Royal Navy and the current WESTLANT19 deployment, say the Royal Navy, is designed to "put this formidable warship and her embarked F-35 fighter jets through their paces on the USA Eastern Seaboard".
Along with HMS Dragon and HMS Northumberland, these ships form the Carrier Strike Group. Supported by RFA Tideforce they will also be joined by units additional from the United States Navy, US Air Force and US Marine Corps.
"Royal Marines from Lima Company 42 Commando and Fleet Air Arm assets are also embarked and include Merlin helicopters and Wildcats from Culdrose-based 814 and Yeovilton-based 815 Naval Air Squadrons and HMS Queen Elizabeth's own 820 Naval Air Squadron. Commando Helicopter Force's 845 NAS are also embarked in their role as the wings of the Royal Marines."
The U.S. Ambassador to the UK, Woody Johnson, said:
"This is fantastic to see! The US Navy joins the Royal Navy and the HMS Queen Elizabeth Carrier Strike Group – our nations training side by side to ensure the security & freedom of the high seas!"