The flagships of the Royal Navy and the French Navy met up in the Mediterranean Sea.
According to the Royal Navy:
"HMS Queen Elizabeth has rendezvoused with the French carrier Charles De Gaulle for Exercise Gallic Strike: three days of joint training and engagements in the Western Mediterranean taking place from 1-3 June 2021."
[#CLEMENCEAU_21] 1ères images de la rencontre entre les GAN🇫🇷 et🇬🇧 et leurs aéronefs de combat.
3 jours durant, les moyens 🇫🇷 & 🇬🇧 de dernière génération se sont exercés, combinant et démultipliant ainsi leurs capacités à lutter #ensemble contre toutes les menaces. #NotreDéfense pic.twitter.com/wh2hkkjbWS

— Armée française – Opérations militaires (@EtatMajorFR) June 3, 2021
British aircraft carrier HMS Queen Elizabeth sailed with French aircraft carrier Charles de Gaulle for a few days.
According to a Government news release:
"Working alongside another key NATO ally, the Carrier Strike Group will be joined by French Aircraft Carrier Charles De Gaulle for a period of dual carrier operations in the Mediterranean."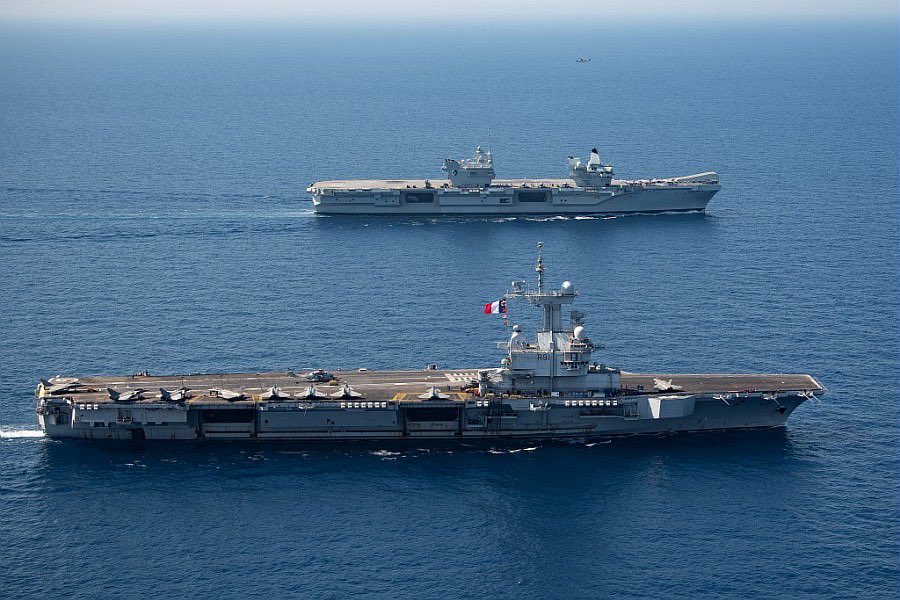 Below is a video, enjoy!
HMS Queen Elizabeth, FS Charles de Gaulle and a fly-past from F-35s and Rafales (plus an E-2 Hawkeye), enjoy! #EntentCordiale pic.twitter.com/5C8qih1KeA

— UK Defence Journal (@UKDefJournal) June 4, 2021
What is the UK Carrier Strike Group doing?
HMS Queen Elizabeth is the deployed flag ship for Carrier Strike Group 21 (CSG21), a deployment that will see the ship and her escorts sail to the Asia-Pacific and back. CSG21 will see the ship along with the Strike Group work with over 40 countries from around the world. The Strike Group will operate and exercise with other countries Navies and Air Forces during the 7 month deployment.
The Carrier Strike Group includes ships from the United States Navy, the Dutch Navy, and Marines from the US Marine Corps. As well as British frigates, destroyers, a submarine, two RFA supply ships and air assets from 617 Sqn, 820 NAS, 815 NAS and 845 NAS. This is the largest deployment of Fifth Generation Fighter Jets at sea in history.
What is the French Carrier Strike Group doing?
The primary mission of the task force's five-month deployment in the East Mediterranean, the Persian Gulf and the Indian Ocean is to assist Operation Inherent Resolve, a U.S.-led mission of forces from several countries tasked with eradicating Islamic State remnants following its three-year occupation of large swaths of Syrian and Iraqi territory. You can read more about the French carrier group here.