HMS Queen Elizabeth has welcomed the United States most senior marine, General David Berger.
We were proud to host the most senior @USMC Marine onboard this week, @CMC_MarineCorps . Gen Berger and his staff watched their F-35s fly from our decks – a fantastic display of our interoperability and precursor to our first operational deployment in 2021. #WESTLANT19 #teamwork pic.twitter.com/ezuKK1Qops

— HMS Queen Elizabeth (@HMSQNLZ) November 7, 2019
Gen. David Berger became the Corps' 38th commandant following a passage of command ceremony held at Marine Barracks in Washington in July.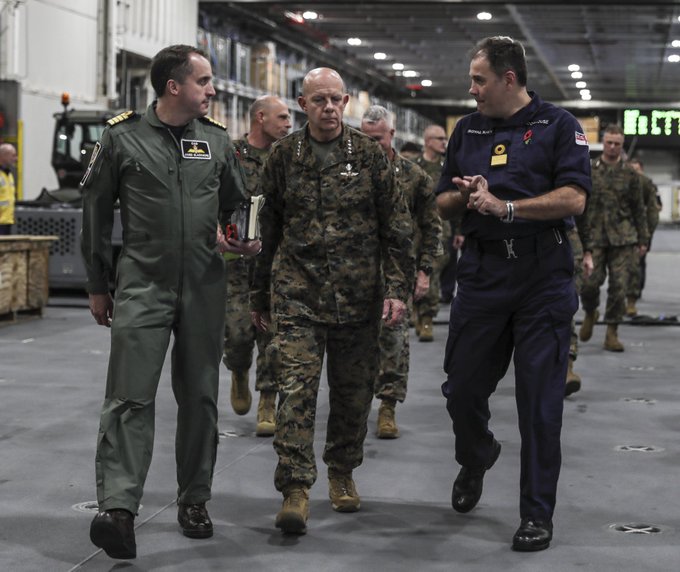 HMS Queen Elizabeth is currently carrying out flight trials with British and US Marine Corps F-35B jets.
In 2021, HMS Queen Elizabeth will deploy with two frigates, two destroyers, a nuclear submarine and support vessels.
Commodore Michael Utley, Commander United Kingdom Carrier Strike Group, is reported by Save The Royal Navy here as saying that HMS Queen Elizabeth will be escorted by two Type 45 destroyers, two Type 23 frigates, a nuclear submarine, a Tide-class tanker and RFA Fort Victoria.
The ship will also carry 24 F-35B jets, including US Marine Corps aircraft, in addition to a number of helicopters.