Plans for Littoral Strike Ships and Fleet Solid Support Ships may be scrapped in favour of more numerous 'Multirole Support Ships', the UK Defence Journal has learned.
An inside source that asked not to be identified recently attended a briefing at the Commando Training Centre, also known as CTCRM, discussing information relating to future UK amphibious and littoral capability
Over the last few months, the competition for the Fleet Solid Support Ship was halted and nothing has been heard about the Littoral Strike Ship programme, now it seems there is good reason.
I was told "LSS and FSSS likely to be sacrificial lambs at forthcoming review in order to get MRSS in larger numbers".
"Ellida will require some tweaks but would appear to reflect the requirements of littoral strike and needs of Carrier Strike", the source added.
The deletion of FSS and FSSS in favour of smaller but more numerous MRSS vessels fits with current views, "thinking is larger number of smaller targets".
"It's a solution that fits the new doctrine. LSS was going to be a 40,000t conversion of merchant ship, big poorly protected target."
How will this be paid for?
One option appears to be gapping the capability currently provided by the Albion class.
"Probably be a capability gap taken with Albion and Bulwark too as amphibiosity doesn't fit with littoral strike requirements. Neither were mentioned in the brief other than saying that through "disinvestment" there would be gaps to pay for new capability."
Please note however that this not a solid plan, merely an option.
What is Ellida?
The ELLIDA concept is a 195m multi-role support and logistics vessel designed to provide the capabilities needed in "future global operations, offering the flexibility of a large hull, with internal vehicle and stowage decks, weather deck stowage and additional accommodation".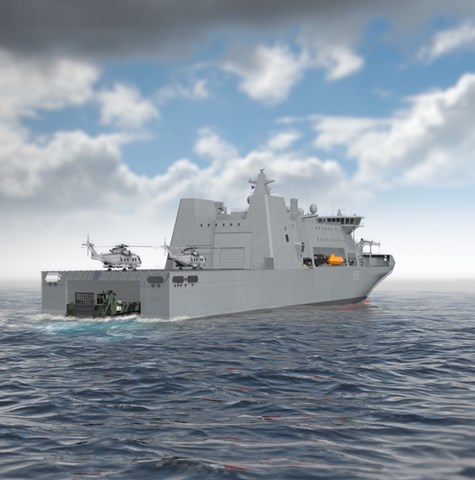 It has the utility to transport and deliver troops, vehicles, equipment and supplies from anywhere in the world in support of amphibious warfare and littoral manoeuvre. Its mix of ship-to-shore offloading and logistics capabilities allow support to naval operations through landing craft, boat operations, multi-spot aviation and replenishment at sea.