British MQ-9B drones, known as 'Protector', could be used to augment the UK's fleet of P-8 Poseidon Maritime Patrol Aircraft.
A recent announcement from the builders of Protector, American firm General Atomics (GA-ASI), signals their continued effort to push the aircraft as a viable, long endurance maritime patrol platform.
An MQ-9B SkyGuardian is over Scotland and is being flown to demonstrate its "capability in a maritime environment". The drone is taking part in Joint Warrior, a twice-yearly UK-led NATO exercise. pic.twitter.com/0RpSwjoTAx

— George Allison (@geoallison) September 28, 2021
Additionally, remarks from senior politicians and Royal Air Force higher-ups appear to signal the intention to operate Protector in a maritime role. I'll go into this more below, but first the basics…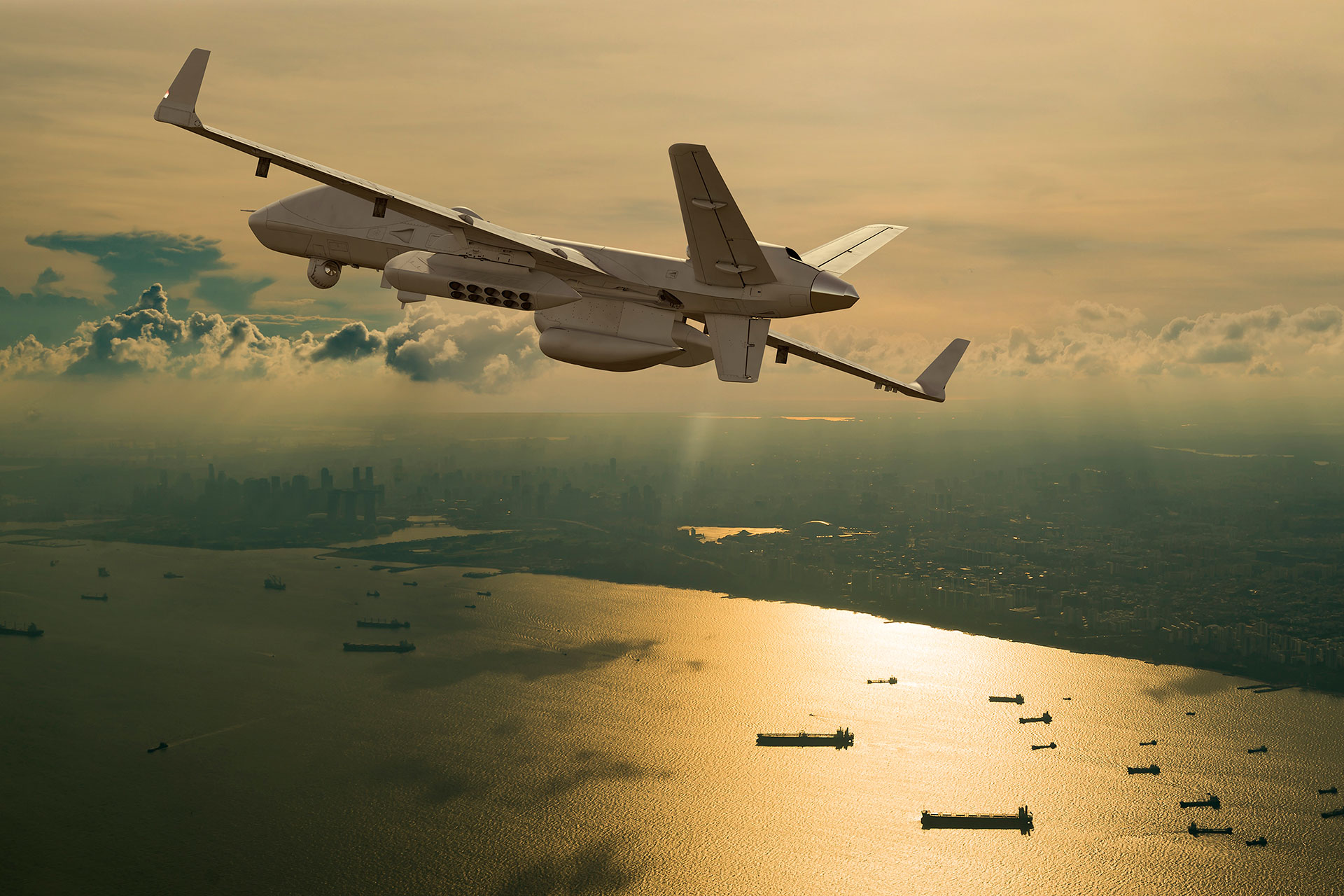 What is Protector?
Protector is the British variant of the MQ-9B SkyGuardian and the UK intends to purchase 16 examples of the UAV to replace the RAF's current fleet of MQ-9A Reapers.
Protector is the world's first certified Remotely Piloted Air System, enabling it to fly in busy, unsegregated airspace, including civilian airspace, thanks to its 'sense and avoid' technology.
What is Poseidon and why would it need to be 'augmented'?
The P-8 Poseidon, developed by Boeing, is designed to conduct anti-submarine warfare, anti-surface warfare, and shipping interdiction, along with an electronic signals intelligence role. This involves carrying torpedoes, anti-ship missiles and other weapons.
It's one of the most capable maritime patrol aircraft ever to fly. The problem for the UK, according to a number of people, is that the UK order of nine aircraft just simply "isn't enough".
Back in 2018, we reported that many believe that number of P-8A Poseidon aircraft being purchased is "too low to fulfil the range of tasks under its responsibility".
The Defence Committee advised in 2018 that it had received detailed written evidence from former RAF officers with extensive experience of ASW operations who argue that "the intended aircraft and crew provision for the MPA force is too low to fulfil the range of tasks under its responsibility." 
Their report on the procurement stated the follow:
"Unrealistic assumptions have been made about the ability of NATO allies to contribute to MPA provision and that at least 16 aircraft and a higher crewing requirement is needed to attain the necessary coverage."
More numerous, cheaper aircraft able to augment the nine Poseidon aircraft seems like a no-brainer, surely?
What makes the two types similar enough for this to be an option?
Very little at first glance but recent news from Leonardo that General Atomics is working with Leonardo to integrate the Leonardo Seaspray 7500E V2 radar into the centerline radar pod of the MQ-9B makes it a more viable maritime patrol platform.
Leonardo published the following:
"GA-ASI's MQ-9B is revolutionizing the long-endurance RPAS market by providing all-weather capability and compliance with STANAG-4671 (NATO airworthiness standard for Unmanned Aircraft Systems). These features, along with an operationally proven collision-avoidance radar, enables flexible operations in civil airspace. SeaGuardian has a multi-mode maritime surface-search radar with Inverse Synthetic Aperture Radar (ISAR) imaging mode, an Automatic Identification System (AIS) receiver, and a High-Definition – Full-Motion Video sensor equipped with optical and infrared cameras. This sensor suite, augmented by automatic track correlation and anomaly-detection algorithms, enables real-time detection and identification of surface vessels over thousands of square nautical miles. The Seaspray 7500E V2 radar is well-suited to the SeaGuardian mission set, using Active Electronically Scanned Array (AESA) technology to detect, track and classify hundreds of maritime contacts."
Their release also adds:
"The Seaspray greatly enhances the capabilities of the MQ-9B and builds on the already close working partnership between GA-ASI and Leonardo. Earlier this year GA-ASI announced the completion of initial integration work of Leonardo's SAGE electronic surveillance unit onto the SeaGuardian, equipping the aircraft with the ability to gather intelligence information on maritime and land-based radar emitters over a wide area."
You can read the full release here. General Atomics also say that, during trials, the MQ-9 also demonstrated the operation of a multi-mode, maritime surface-search radar, and High-Definition/Full-Motion Video Optical and Infrared sensor.
"This sensor suite enables real-time detection and identification of large and small surface vessels in all-weather at long ranges, 360 degrees around the aircraft."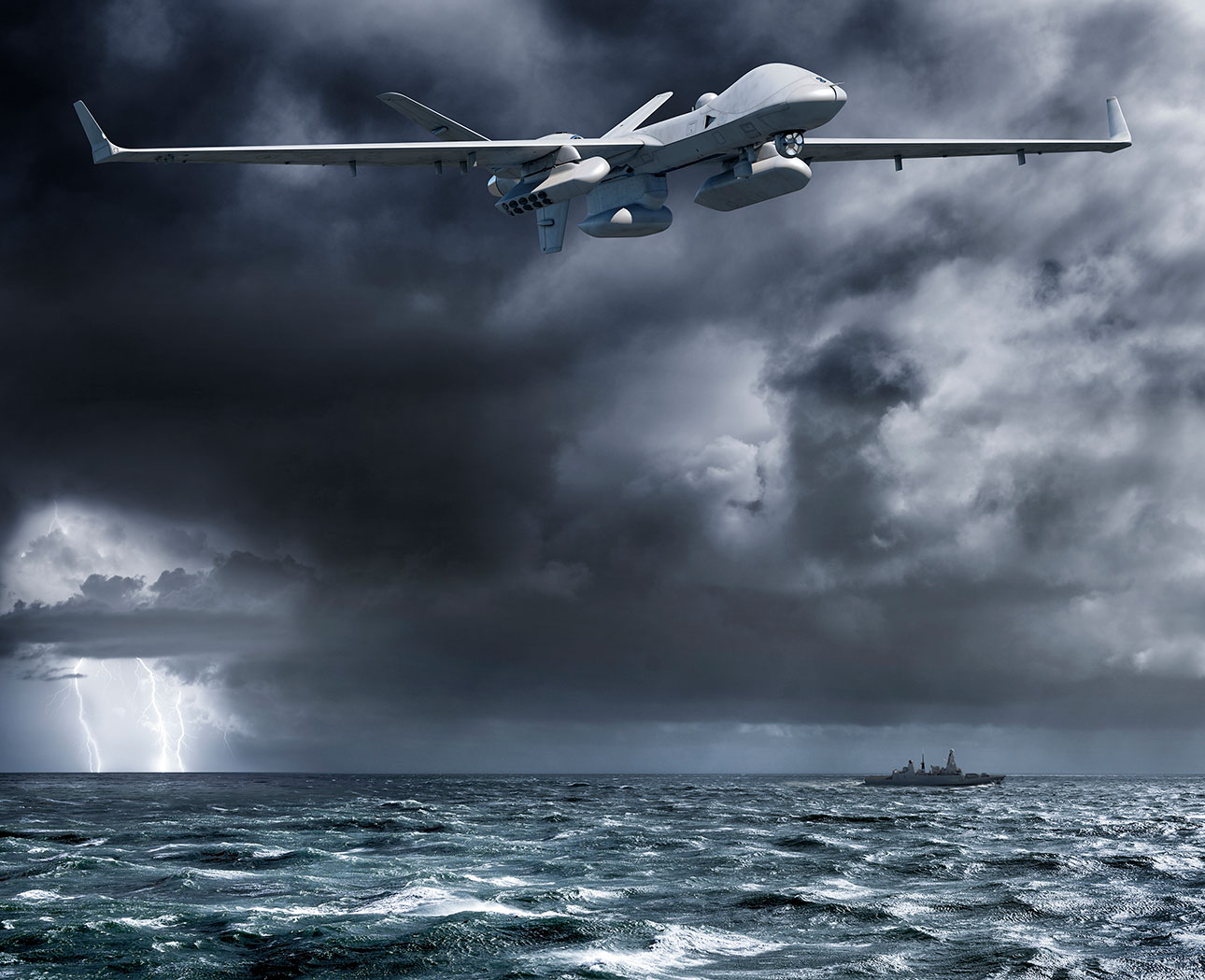 It certainly isn't a new idea, back in July last year, General Atomics were pushing the MQ-9B in a maritime patrol role in Japan, touting its 35 hour endurance as being ideal for maritime patrol. Additionally, General Atomics demonstrated the capabilities of the MQ-9B in December last year to European nations.
Andy Netherwood, a veteran of 26 years service in the Royal Air Force with operational tours flying the C-130 and C-17 as well as staff tours in Strategy, Policy & Plans, Capability Development and on the Directing Staff at the UK Defence Academy, thinks it would be a good idea:
"MQ-9B SeaGuardian will be equipped with Leonardo's Seaspray radar capable of detecting, tracking & classifying hundreds of maritime contacts. MQ-9B Protector enters service with the RAF in 2024; this seems like a sensible option to augment Poseidon. It can be fitted with sonobuoy dispensers and also process data from sonobuoys dropped by other aircraft. Brimstone will be integrated on UK Protector & GA has talked about a lightweight torpedo for subs."
You can read more from Andy on his Twitter account where he frequently discusses topical aviation news. I'd recommend following him if you don't already.
The prototype of the aircraft, on trials around the UK as of publication, is reportedly configured to a maritime capability role, including a multi-mode maritime surface-search radar. This is expected to build on previous maritime demonstrations mentioned previously in this article.
"GA-ASI will work closely with multiple European allies to demonstrate the capabilities of MQ-9B, including in the maritime environment, and how MQ-9B can complement and team within a networked environment with other national assets," said Tommy Dunehew, vice president of International Strategic Development for GA-ASI.
Back in 2019, then Air Chief Marshal Sir Stephen Hillier said:
"Protector exemplifies the benefits that military-industry partnering can bring. Through the embedding of experienced RAF operators in the program, we are helping bring a world-leading capability to life. It will provide the RAF with a remotely piloted air system — equipped with British-designed and built weapons – that can operate worldwide for up to 40 hours. And even better I am pleased to confirm that we are already talking with international partners about how we develop capability even further including in the maritime domain."
Will it happen?
It's currently an unknown. While Group Captain Shaun Gee, the RAF Director Air for ISTAR Programmes, recently discussed the British hope to one day use Protector in a maritime role to augment Poseidon, he also noted that nothing has yet been funded.
Additionally it should be noted that Secretary of State for Defence Ben Wallace said last year:
"In a UK environment, I could see it covering maritime issues that we currently use planes to do with people on it, like the P-8 [Poseidon], currently do lots of that. So, we can do lots of maritime awareness, I would see it potentially if there was an oil slick or something. That's the type of thing that gives you that persistence, that I think the rest of the UK Government has as a capability."