An RAF Griffin helicopter has burst into flames after landing on Snowdonia due to a technical problem.
All five people who were on board are understood to be well.
A Ministry of Defence spokesman said the helicopter "safely completed a precautionary landing in Snowdonia. Everyone on board exited safely, subsequently the aircraft caught fire."
According to the Royal Air Force:
"In addition to pilot training, the Griffin is used for crewman training: a very important and integral part of multi-crew operations – especially useful for procedural instrument-flying training and practicing complex emergency-handling techniques.
The Griffin is also used in its HAR2 form by No 84 Squadron on SAR duties in Cyprus. With a cruising speed of 120kt (138mph) and an endurance of almost 3 hours, which makes it ideally suited for advanced helicopter training, the Griffin HT1 is ideally suited for Multi-Engine Advanced Rotary Wing training. The syllabus includes general-handling flying, underslungload carrying, night-vision goggle training, procedural instrument flying, formation flying, low-flying navigation and an introduction to tactical employment, including operations from confined areas.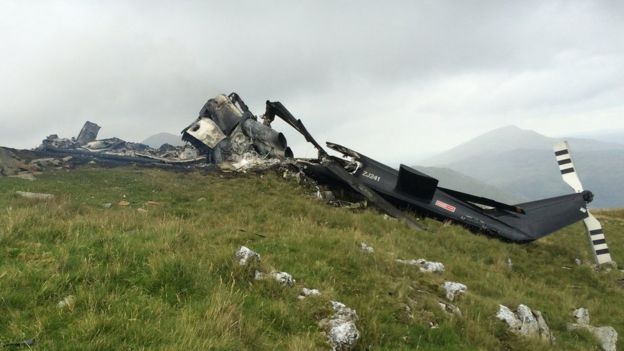 Readily identifiable as the development of the famous "Huey" series of helicopters, the cabin is wide and flat topped, with a bulky engine installation in the centre of the cabin roof. The large, four-bladed rotor sits prominently above this. The cockpit retains the large glazed panels of the original, with the panels at the pilots feet also glazed, another feature held over from the earlier aircraft. The tail boom is long and tapering, ending in a swept fin that carries the tail rotor at the tip."
The UK now operates 10 Griffin helicopters.