According to local media, South Korea is considering the purchase of aircraft carriers.
Reports say that one option is a twin island 70,000 ton vessel with dimensions of 298m long and 75m wide. The vessel would carry 1340 crew and 40 fixed-wing aircraft and 8 helicopters.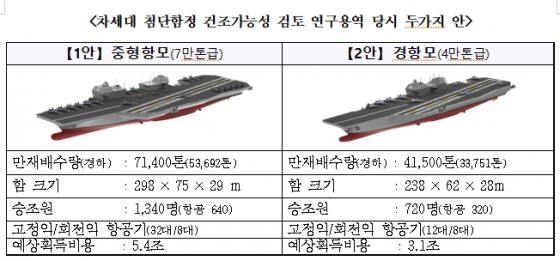 The second option is 40,000 tons, 238m long and 62m wide with a crew of 720 and a capacity of 20 fixed wing aircraft and 8 helicopters.
It is understood that Democratic Party Party Chairman Choi Jae-sung said in a report distributed earlier this year by the National Assembly's National Defense Commission that these two proposals were presented in the research service carried out when the Navy finalised its plan for a large carrier.
Quoted in local media here, Choi said:
"The two proposals were reviewed, but the final decision was made with a combination of acquisition costs and acquisition periods."
It is also understood that the aircraft carrier would likely operate the F-35.