Banshee target drones are operating from HMS Prince of Wales alongside F-35B jets.
Banshee is one of a number of target drones provided by Qinetiq, you can see more of their range by clicking here.
Aircraft carrier HMS Prince of Wales is currently at sea for her first period of concerted training with fifth-generation F-35 Lightning stealth fighters (although the first F-35 landed onboard earlier this year).
The carrier will soon participate in the largest military exercise in the UK, Joint Warrior, off the Scottish coast.
Operating crewed and un-crewed air assets in the shape of @thef35 and the Banshee from @QinetiQ is another big step forward on our journey to joint carrier strike capability.

They also look pretty cool!
✈️✈️🛩🛩😎😎@OC207Sqn @RAF_Marham pic.twitter.com/PlbnpQJFRC

— HMS Prince of Wales (@HMSPWLS) September 8, 2021
Another close up of the drone shows Fleet Air Arm markings.
The Banshee Jet-80 drone was developed by Qinetiq, on their website they say:
"Developed from the successful Banshee target, this twin-jet engine powered version was developed using knowledge and experience gained whilst operating the single jet engine variant which entered service in 2010.
The current version is fitted with twin 40kg thrust gas turbine engines giving a total of 80kg of static thrust. This offers an increase in the maximum straight and level airspeed of up to 180metres/second. The use of an auxiliary fuel tank ensures that endurance is similar to that of the single engine version with a typical mixed throttle mission time in excess of 45 minutes.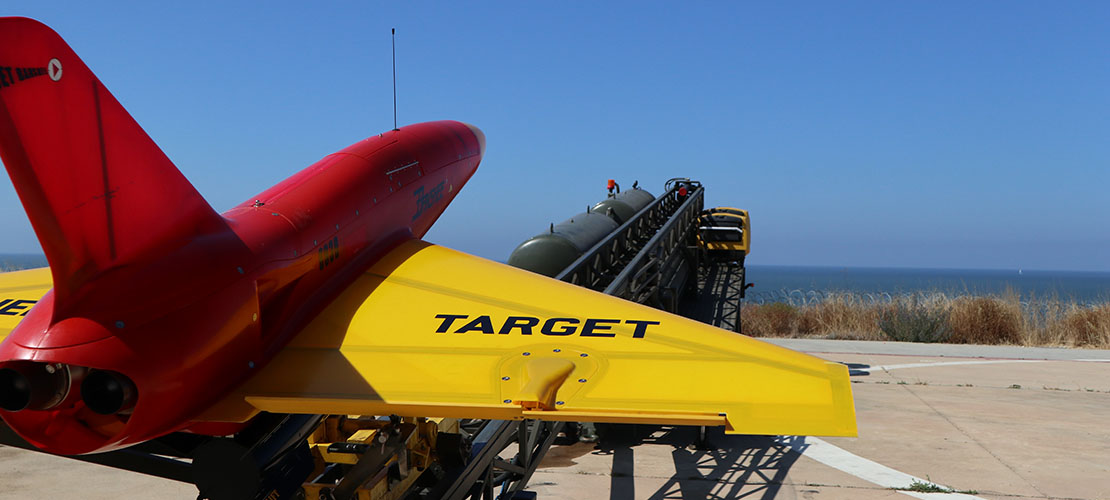 When fitted with the patented Hot Nose the target provides a forward and side-looking IR source with output in Bands I, II and III, whilst the jet engines provide a realistic rearward looking IR signature. All other well proven augmentation devices traditionally available to Banshee can be fitted to this latest twin jet engine derivative."
New Toy Day for #PWLSAtSea! We're testing "Banshee" by @QinetiQ as a training, testing and evaluation method for simulating airborne targets at sea.

Capable of up to 200meters per second, it's twin gas turbines mean it's pretty quick!
✈️✈️💨💨🎯🎯 pic.twitter.com/KobVRHSUEV

— HMS Prince of Wales (@HMSPWLS) September 2, 2021